Kimi Raikkonen will start just ahead of Ferrari teammate and world championship leader Sebastian Vettel on the front row for Sunday's (28 May) Monaco Grand Prix after Lewis Hamilton endured a nightmare qualifying session in the principality.
Hamilton, whose performance did improve during the final practice run following a forgettable outing in FP2, did not even make the top-10 shootout for pole. Struggling for grip and pace, the three-time world champion, just six points adrift of Vettel in the standings after his thrilling victory in Barcelona two weeks ago, almost hit the barrier before seeing his chances of sneaking into Q3 wrecked by a last-gasp crash involving McLaren's Stoffel Vandoorne that led to double yellow flags.
"The opportunity was not there for me," bemoaned Hamilton, who qualified 14th. "I just struggled with the car. I don't really know what to say at the moment. I'm deflated but will keep pushing tomorrow.
"That's pretty much the weekend done. Tomorrow I will just be driving around in whatever position. I will try to get into the top 10 but it will be a nice Sunday drive I imagine."
Raikkonen's pole in Monaco represents his first since the 2008 French Grand Prix. The 37-year-old clocked a final lap of 1:12.178 that Vettel, who finished four hundredths behind, was just unable to match.
"It's great," Raikkonen told Sky Sports. "It definitely wasn't easy this weekend but we managed to fix the car for qualifying. It's tricky to go fast around this circuit. It's the best place to race and we'll try to make the most of it tomorrow. It's been difficult to be consistent but the car was great. It was good fun."
Hamilton's Mercedes teammate, Valtteri Bottas, will begin tomorrow's race in third ahead of the Red Bulls of Max Verstappen and Daniel Ricciardo, Toro Rosso's Carlos Sainz, Sergio Perez of Force India and Haas' Romain Grosjean. The Flying Finn was just 0.002 seconds adrift of Vettel.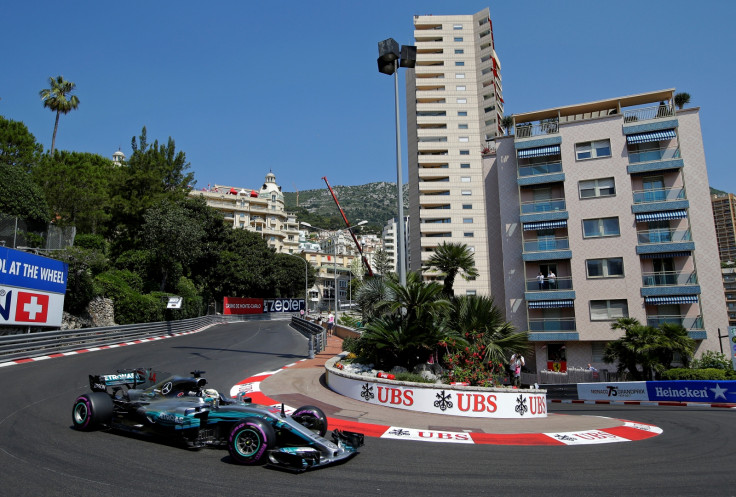 Both McLarens surprisingly made the top 10, although Vandoorne, who went into the wall at the Swimming Pool, will be subject to a three-place grid penalty following his collision with Felipe Massa in Barcelona.
Jenson Button, making a one-off return to Formula One as Fernando Alonso attempts to win the second leg of motorsport's prestigious Triple Crown at the Indianapolis 500, came ninth in what he claims was his qualifying session. However, he will take a 15-place penalty due to unscheduled power unit changes made to the MCL32.