Lewis Hamilton equals idol Ayrton Senna by securing 65th career pole at the Canadian Grand Prix
Three-time world champion was presented with one of the Brazilian's race-worn helmets in Montreal.
Hamilton is now just three poles short of all-time leader Michael Schumacher.
World championship leader Sebastian Vettel to start second on the grid at the Circuit Gilles Villeneuve.
Lewis Hamilton matched the great Ayrton Senna by securing the 65th pole position of his illustrious Formula One career at the Canadian Grand Prix on Saturday (10 June).
The triple world champion, a five-time winner in Montreal, will start at the front of the grid at the Circuit Gilles Villeneuve for the third year in succession after producing a blistering couple of laps in the Q3 top-10 shootout and edging out title rival Sebastian Vettel by three tenths of a second. He is now just three poles short of Michael Schumacher, who still leads the way with 68.
"I am shaking," an emotional Hamilton was quoted as saying by BBC Sport after receiving a gift from Senna's family - a helmet worn by his idol during his final season with Team Lotus in 1987.
"I am speechless. Ayrton was my favourite driver. He inspired me to be where I am today. To receive this is a great honour. Thank you to the Senna family."
On his impressive late showing, he said: "You fans are the ones that make this Grand Prix special for us. Montreal has been good to me down the years.
"It was a close battle but I was gunning and pushing. Luckily I got the good lap. It was a sexy lap. A great lap. The team did great to learn from our mistakes in the last race. I owe this to the team."
Ferrari had sealed a one-two in the final practice session, but Vettel, who leads Hamilton in the world championship standings by 25 points after his victory in the streets of Monaco a fortnight ago, was ultimately unable to best a time of 1:11.459. Teammate Kimi Raikkonen will begin fourth, behind Valtteri Bottas and ahead of the chasing Red Bulls of Max Verstappen and Daniel Ricciardo.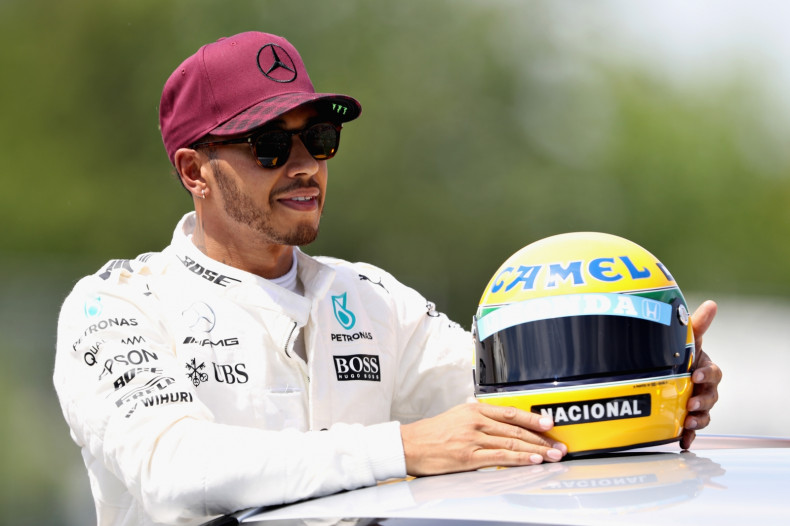 "We have the pace [to win tomorrow]," Vettel said. "I am not so happy with my last run in qualifying. I probably pushed a little too hard."
Felipe Massa was seventh for Williams, while Force India duo Sergio Perez and Esteban Ocon were eighth and ninth respectively. The top 10 was rounded off by Renault's Nico Hulkenberg.
Fernando Alonso was eliminated in Q2 on his return from the Indianapolis 500 and will take 12th spot on the grid behind Daniil Kvyat, who suffered a rear puncture after clipping the wall.