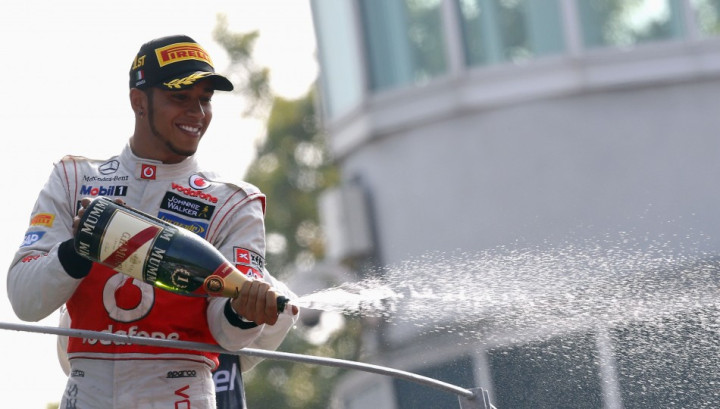 Former McLaren-Mercedes team principal and present executive chairman Ron Dennis has spoken out after Lewis Hamilton's masterful win at Monza, telling his star driver to sign a new contract if he wants to keep winning.
Hamilton stormed to a dominant 4.3s win over Sauber's Sergio Perez and a 20.5s triumph over championship leader Fernando Alonso of Ferrari, to record his third win of the season and his second in the last four races; Hamilton took the chequered flag at the Hungaroring, just before the mid-season break and in Canada in June. The result catapults the 2008 world champion into second place in the race for this season's title, with 142 points to Alonso's 179. Meanwhile, the McLaren-Mercedes team, riding on the back of a stunning last three races (33 points from Hungary and 25 each from Belgium and Italy) has leapfrogged Ferrari to second place in the race for the constructors' title and are only 29 points behind championship leaders Red Bull Racing-Renault.
Hamilton has been at the centre of a contract extension saga in recent weeks. The British driver's deal with the Woking team expires at the end of this season and poor mid-season results suggested he would refuse to sign a new deal. However, the team's turnaround over the last three races has Dennis claiming Hamilton will now sign a new contract. Dennis is credited with discovering and nurturing Hamilton, as well as being critical in the driver's £75m five year contract signed in 2007.
The former team boss refused, however, to be more explicit in his statements, insisting that present team manager Martin Whitmarsh would be the man to talk to.
"Our shareholders have a position, then the board has a position and then Martin Whitmarsh has to handle what that position is. It would be totally inappropriate for me to say anything that would undermine Martin's position. His job is to get to where we want to get to. I'm sure he will have a better position now having demonstrated yet again we have a very strong car," Dennis explained, adding, "If Lewis is absolutely committed to winning, then he can win in a McLaren."
Hamilton was equally reluctant to comment on his future after the race, preferring only to stress on the delight of the win in the Italian Grand Prix and the joy of winning regularly again.
"Of course having a winning car is important. I'm winning now so it's a good position to be in. I can see all the speculation so of course I understand. I'm not stupid but it would be the same if Jenson's contract was coming to an end," he concluded.