Lewis Hamilton has ruled out winning the Formula 1 world drivers' championship in his first season with Mercedes in 2013.
The 2008 world champion finished a credible fifth in the first race of the year in Australia, following his move from McLaren during the off-season, and claimed he was 'optimistic' ahead of the new campaign.
But Hamilton admits, ahead of the second race of the season in Malaysia, that such is the early pace set by Ferrari pair Fernando Alonso and Felipe Massa, world champion Sebastian Vettel and Melbourne race-winner Kimi Raikkonen, that Mercedes must temper ambitions of claiming the title.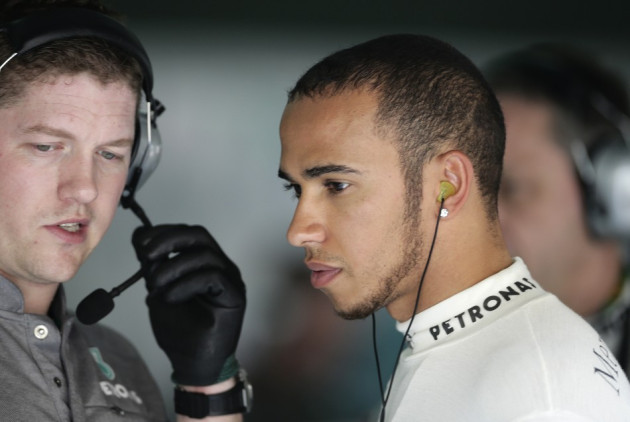 "We expected to be better [than Mercedes were last year] but not as high as we are now," Hamilton conceded.
"I'm aiming for consistency but in terms of performance we don't have that pure speed to compete for the title."
"Ferrari are the most impressive and then the Lotus and then Red Bull," he added. "That's my initial thoughts but everyone has their own opinion.
"Lotus did a great job but I think in terms of pure pace the Ferrari is quite quick.
"I wouldn't count us out just yet. I don't know about the race win. We were a long way off in the race last week, even if the set-up could have been better.
"I'm thinking we could possibly get a win this year, that's where I'm thinking."
The 28 year old's comments come as something of a surprise so early in the season following his fifth place finish down-under, not least after his move from McLaren following a four-year spell where errors on the off the track had prevented him sustaining a genuine challenge to retain the championship he won during his second season in Formula 1 in 2008.
But while former team-mate Jenson Button endured McLaren's customary early-season struggles in Australia, Hamilton was afforded the luxury of starting the season in a car capable of making an early impression.
"I do really feel positive about the car, I feel positive about the team and they are moving very fast in terms of developing the car and learning how I like to work, and I'm learning very quickly how they like to work," he said.
"Of course, we could have done things better and it was our first race together, so you can't really prepare perfectly no matter how much you prepare for it. It's not until you do a race that you understand how to work.
"I came away from there with 10 points and I feel really happy with 10 points because when I made the switch [from McLaren] I didn't know where we would be. I also had the feeling that that wasn't just a lucky shot in the first race, I felt it was something we can continue throughout the year. If you look at all the top teams, they are really good a developing and moving forward very fast and I think that is something the team is learning to do and I'm seeing it coming through."