Leytonstone Tube stabbing: Armed police boost at London tube and rail stations after knife attack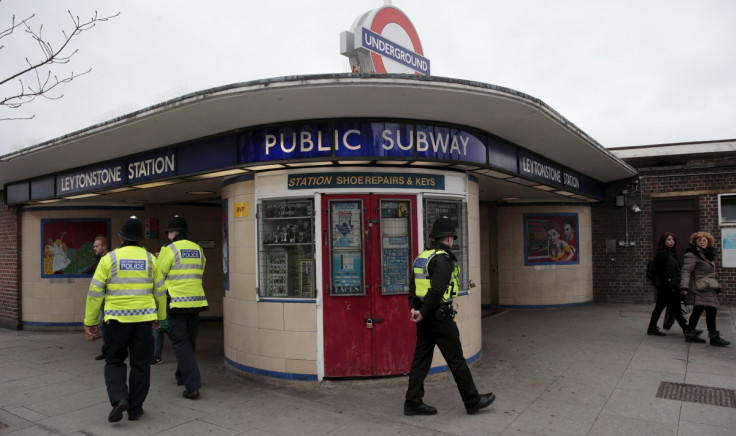 The British Transport Police will boost the presence of armed police personnel at tube and rail stations in London following an alleged terrorist knife attack at the Leytonstone station on 5 December. In the incident, classified as a terrorist incident by the Metropolitan Police, 29-year-old Muhaydin Mire was alleged to have attacked three people at the underground station with a knife.
One victim, aged 56, suffered serious knife injuries but they are not thought to be life-threatening, while two others sustained minor wounds. Mire was reported to have claimed that the knife attacks were revenge for the UK's military intervention in Syria. He has since been charged with the attempted murder of the 56-year-old man.
In a statement issued on 6 December afternoon, the Assistant Chief Constable Mark Newton from the British Transport Police assured the public that the police was taking measures to ensure their safety while they are using the rail network. "The safety of the travelling public remains our top priority," he added.
Newton continued: "In addition to our usual specialist response teams, last week we launched Project Servator deploying even more highly visible police patrols designed to identify and deter terrorism." He said following the knife attack in Leytonstone, the British Transport Police "are now deploying still more officers in this role."
This includes both uniformed and plain-clothed officers, supported by other resources such as armed officers, police dogs, a network of CCTV cameras, and the thousands of rail staff we work alongside. Newton urged the public to "remain calm and carry on using public transport as normal."
"Britain's railway system is an open one which we all rely on to go about our day to day live and get to and from work. The measures we put in place make the important balance between a system with easy access for passengers and a secure one," he added.
He also urged members of the public to "be our eyes and ears" to report anything suspicious. In an emergency, they have been advised to call 999 or can report anything suspicious by texting 61016 or calling the Anti-Terrorist Hotline on 0800 789 321.
The British Transport Police provides police service for Britain's rail systems in England, Wales, and Scotland as well as the London Underground, the Docklands Light Railway, the Glasgow Subway and the Midland Metro and Croydon Tramlink Systems. They have the same powers as the police.
© Copyright IBTimes 2023. All rights reserved.