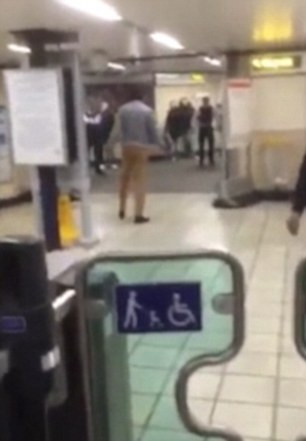 A 'knife wielding' attacker has slashed a man's throat at a station in London as he shouted "this is for Syria", reports claim. The suspect is believed to have threatened people with a knife at Leytonstone underground station.
According to eye-witnesses the suspect was targetting commuters as they were leaving the station. He allegedly shouted "this is for Syria" and 'all your blood will be spilled" as he stabbed the victim in the neck.
The suspect then threatened several other passengers before being confronted by a number of unarmed police officers. Dressed in brown trousers and a grey top, the attacker is seen pacing in front of the officers. The uniformed officers ordered the suspect to drop his weapon. After he refused to do so, police officers tried to subdue the suspect with a taser several times before they successfully brought him to the ground, at which point he was apprehended by police.
According to Sky News a Met spokesman said: "Police were called at 7:06pm on Saturday, December 5, to reports of a stabbing at Leytonstone underground station. The male suspect was reportedly threatening other people with a knife. Three others are also thought to have suffered injuries.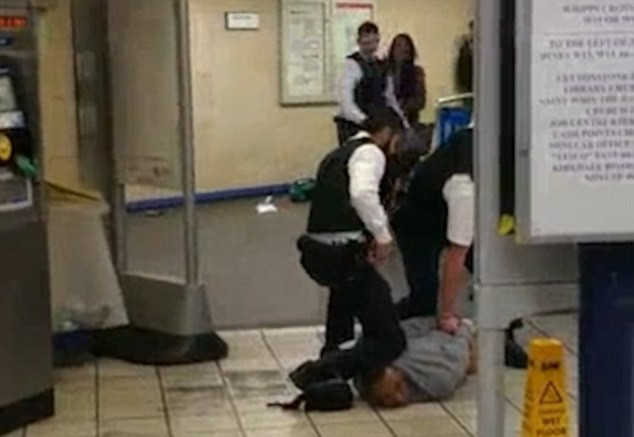 "Met officers attended the scene. A man was arrested at 19:14hrs and taken to an east London police station where he remains in custody. A Taser was discharged by one of the Met officers. Officers from British Transport Police are now dealing with the incident at the scene. We are aware of one man having sustained serious stab injuries. We await details of any other injuries."
Graphic video has emerged on social media of the scene, showing a pool of blood outside the ticket barriers, as police officers confronted the suspect. Terrified passengers including children are seen running from the station.
A spokeswoman from London Ambulance Service said: "We were called at 7:09pm to reports of an assault at Leytonstone underground station. We sent a number of resources to the including our joint response unit, an incident response officer, an ambulance crew and London's Air Ambulance to the scene. We treated a man for stab wounds. He was taken as a priority to hospital escorted by the doctor from London's Air Ambulance. "
The suspect has been taken to an east London police station where he remains in custody.
The Metropolitan Police have said they are treating the attack as a "terrorist incident". Commander Richard Walton, who leads the Met's Counter Terrorism Command, said: "We are treating this as a terrorist incident. I would urge the public to remain calm, but alert and vigilant. The threat from terrorism remains at severe, which means that a terrorist attack is highly likely."
"I would appeal to anyone who was in the vicinity of Leytonstone underground station earlier this evening at around 7pm who saw anything suspicious to call the anti-terror hotline on 0800 789 321. Anyone who may have captured video or photographic footage of the incident is also urged to make contact with the Counter-Terrorism Command via the Anti Terror hotline".
Labour leader Jeremy Corbyn wrote on Twitter: "The stabbing in Leytonstone is absolutely shocking. My thoughts are with the victim and his family."
Prime Minister David Cameron has reportedly been informed of the attack. The British PM is expected to make a statement about the incident in a press briefing.
Transport for London said the incident had sparked delays on the entire Central Line. Steve Griffiths, London Underground's Chief Operating Officer, said: "Leytonstone station is currently closed whilst the police investigate an incident that occurred earlier. We're assisting the police as necessary and will reopen the station as soon as possible."
Members of the public have turned to social media to express their disbelief and horror at the attack at an East London tube station.
More updates follow ...