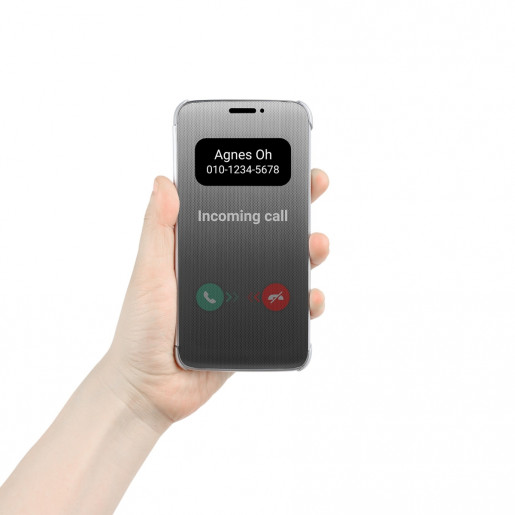 LG has made light of the recent leaks and rumours surrounding its upcoming LG G5 smartphone by unveiling the official Quick Cover case. Labelling it "a case for a smartphone that doesn't officially exist", the flip cover allows users to respond to calls without having to unlock the device.
Much like the Quick Cover View for the LG K10, the form-fitting mesh case responds to touch interactions even when the cover is closed: for example, swiping right or left to answer or reject a call respectively. The reveal also backs up previous suggestions by the company that the LG G5 will feature an 'always-on' display allowing users to view the time, date and notifications at all times.
The LG G5 is widely expected to be announced at this year's Mobile World congress in Barcelona. While the South Korean company has yet to give any official details on the device, rumoured specs suggest a 5.3-inch QHD display, Snapdragon 820 chipset with 4GB of RAM, 32GB of internal storage and a microSD slot. Some degree of modularity to the phone's design has also been mooted by some sources, supposedly to allow for hardware expansion.
Taking an amiable approach to the inevitable leaks and rumours that occur in the run-up to smartphone launches, the South Korean company said: "Known as a company ahead of the times, LG took this characterisation to heart by revealing the existence of the accessory before the actual product.
"The Quick Cover for LG G5 will be on display at Mobile World Congress in Barcelona, Spain from 22-25 February. Visitors to MWC are encouraged to stop by LG's booth in Hall 3 of Fira Gran Via to see the LG Quick Cover and the rumoured LG G5 for themselves."