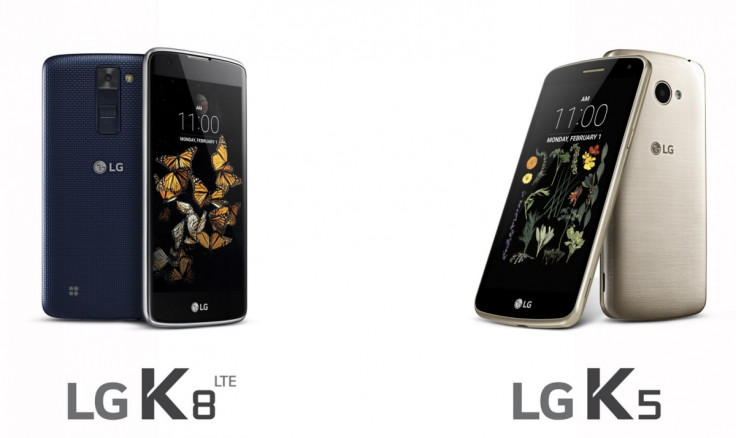 LG seems to be working hard to grab a strong foothold in the mid-range section of the smartphone market. Following the announcement of K10 and K7 at the Consumer Electronics Show in January, the company has just unveiled two more members in the K series called K8 and K5.
The LG K8 would be available in regions including Asia, Africa the Middle East, CIS and Latin America, whereas the K5 will target consumers in Europe, CIS and Latin America. One of the key features of the K series is the feature-rich user experience and advanced camera, all of which come at an affordable price. The LG K8 sports a premium design with smooth, curved edges. The K5, on the other hand, comes in 5in display and a metallic build.
As for other hardware features, the K series duo pack 1.3GHz quad-core processor and run Android Marshmallow out-of-the-box. The K8 uses a 1.3GHz quad-core processor, coupled with 1.5GB RAM. There is an eight megapixel camera at the back and a five megapixel front-facing camera.
Some of the notable features of the K5 are a five megapixel rear camera and a two megapixel front camera, 8GB internal storage that is expandable using a microSD card. The K8 is powered with a 2,125mAh battery whereas the K5 uses a 1,900mAh power house. It is important to note that the features might vary depending on the market the phones go on sale.
Juno Cho, president and CEO of LG Electronics Mobile communications said, "We are aware of the diverse needs and wants of our customers around the world and our goal is to deliver the best products to meet their expectations. The K8 and K5 will be fantastic choices for anyone who is seeking a smartphone with great looks, great looks, at a great price."