The violence started with a series of pictures depicting men engaged in same-sex conduct that were posted and shared on social media in February. Following public uproar, local residents launched vigilante-style hunts for gay men in Kenya's Kwale County, in search of alleged homosexuals, regardless of whether or not they appeared in the photos.
Adam, a 30-year-old man, from the town of Diani, says he did not appear on the pictures shared online but his neighbours suspected him of homosexuality. He was attacked by a group of men with broken bottles on his way home.
"They came toward me in a bullying way, saying 'You gays are spoiling men's respect. How can you sleep with men?' One of them stepped back and collected a bottle that was just dropped there. I saw him smash it down, and then raise it. I tried to push back, but he slashed me with the bottle on the neck and collarbone, [leaving a gash] going down to my chest," Adam said.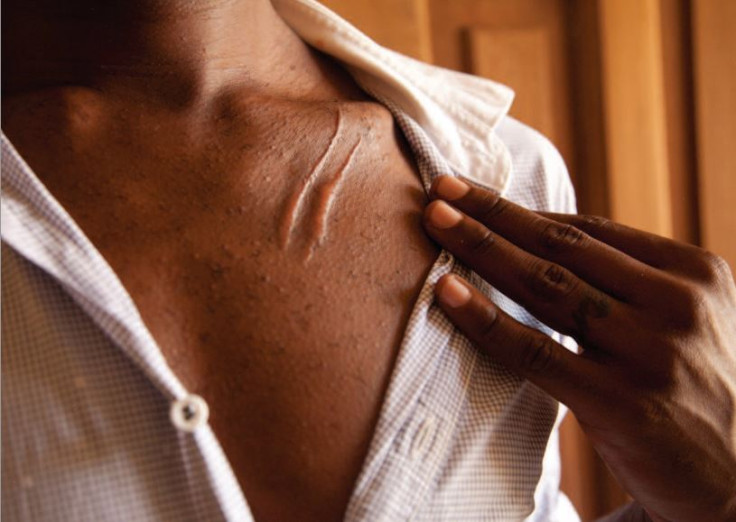 Adam's testimony is just one of those collected by campaigner Human Rights Watch and PEMA Kenya, a community organisation in Mombasa that provides support to gender and sexual minorities on human rights, health, HIV/Aids, and economic well-being.
Failing to protect LGBT attack victims
In a report published on 28 September, the organisations have described how mobs in Kenya's coastal counties of Mombasa, Kwale, and Kilifi – which have been a flashpoint for periodic eruptions of anti-LGBT violence – have repeatedly attacked lesbian, gay, bisexual, and transgender (LGBT) people or health workers serving the LGBT community.
According to the campaign groups, Kenyan authorities are failing to provide adequate response to the attacks. "There is no clear commitment by the Kenyan government to deal with the issue of homophobic instances of violence," Neela Ghoshal, a researcher with HRW, told IBTimes UK over the phone.
After spending three days in hospital, Adam was released. He contemplated filing a police report but told HRW he was concerned the police would not help him or, worse, might arrest him.
The report shows how in some cases, police have protected LGBT people from mob violence, but they have not brought the perpetrators to book. In other cases, activists say they have refused assistance to victims because of their presumed gender identity or sexual orientation, conducting arbitrary arrests, or even perpetrating violence themselves.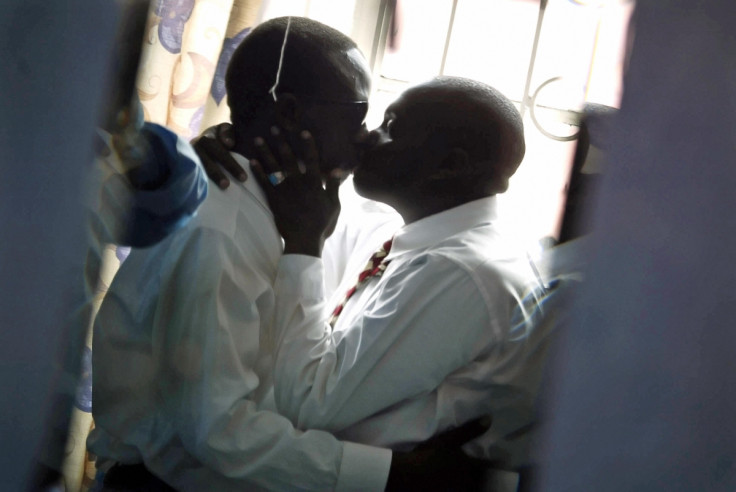 Forced degrading examinations
As Adam continued to deny the charges, he and another man, Bryan, were arrested and prosecuted on homosexuality charges. The police charged them with "unnatural offences" despite not having any evidence that the men had engaged in same-sex conduct. The HRW report states the only "evidence" the police found at one of the men's house was a DVD of the award-winning British television series Queer As Folk.
Yet, the men were taken to Kwale District Court, where the prosecutor requested they undertook "medical examination" – forced anal exams. The "degrading" tests, which encompassed the men to lie on a table with their legs in stirrups and cough, while a doctor, Dr Stephen Kalai, used a magnifying glass to visually examine them – have been condemned by the UN Committee against Torture and the World Medical Association.
HRW also found that while the police do not pro-actively prosecute people under Kenya's laws, Adam and Bryan's arrest constitutes a worrying exception.
"In Kenya, there is just a handful of cases in which the law has been enforced. Because there is an ongoing prosecution under section 162, and two men [Adam and Bryan] were plucked of the street under the basis of a rumour about their sexual orientation, we're actually concerned that if this constitution goes forward, we may see a tendency toward enforcing the law more vigorously in the future. That's something that is very important to put a stop to," Ghoshal said.
The violence is also inhibiting access to HIV prevention and treatment, HRW said, as during the anti-gay witch hunts in Kwale, several gay men who were HIV-positive did not leave their homes for days, preventing them from receiving the highest attainable standard of health.
In other instances, in 2008, 2010 and 2012, homophobic mobs attacked or threatened to attack clinics and HIV workshops for men who have sex with men on Kenya's coastal area.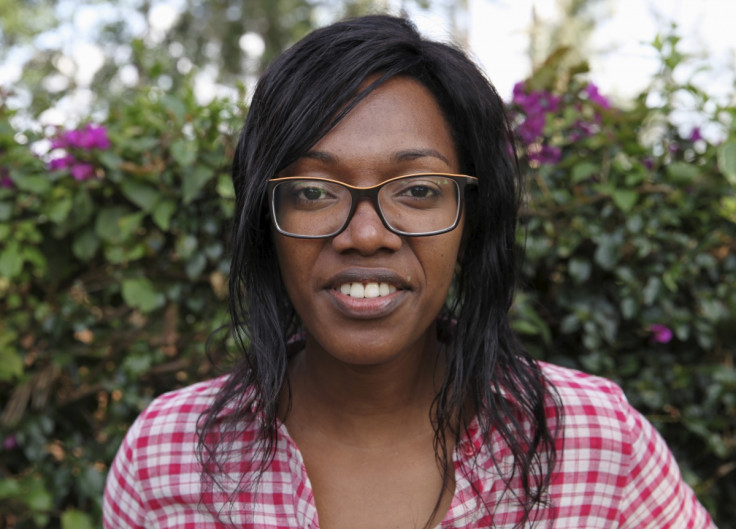 Silent politicians
While the LGBT movement in Kenya "came out" publicly in 2007 after through the participation of the Gay and Lesbian Coalition of Kenya (GALCK) at the World Social Forum held in Nairobi in 2007, Kenyan President Uhuru Kenyatta, like his predecessor, Mwai Kibaki, has largely maintained silent in public debates around LGBT rights.
Kenyatta's only comment on LGBT rights came in July, when he called gay rights a "non-issue" during a visit US President Barack Obama's visit. "It's not a politically popular issue, as we saw the Kenyan president trying to evade the issue when Barack Obama came to Kenya in July," Ghoshal said.
His vice-president, William Ruto, however, compared homosexuals to "dogs" on 2013, while in May during a church service, he stated: "There is no room for gays and those others in Kenya".
"We see the vice-president making homophobic statements, but he is trying to find relevance for himself, distract the public from his International Criminal Court case and anti-corruption charges against him, and this is one of the issues he hits upon. LGBT people become a scapegoat," she added.
Hateful religious leaders
Despite the politicians' relative silence, much of the rhetoric vilifying LGBT people comes from Kenya's religious leaders. Some leaders may have welcomed LGBT individuals into their congregations, but religious leaders from both the Council of Imams and Preachers of Kenya (CIPK, a Muslim organisation headquartered in Mombasa) and the National Council of Churches of Kenya (NCCK) have more often pledged to "flush out gays".
Religious leaders sparking the violence "is particularly the case on the coast where the religious leaders have a very strong influence and some politicians on the coast region are afraid to get on their wrong side," Ghoshal said. This is also the case in Nairobi, where religious leaders have a certain amount of influence.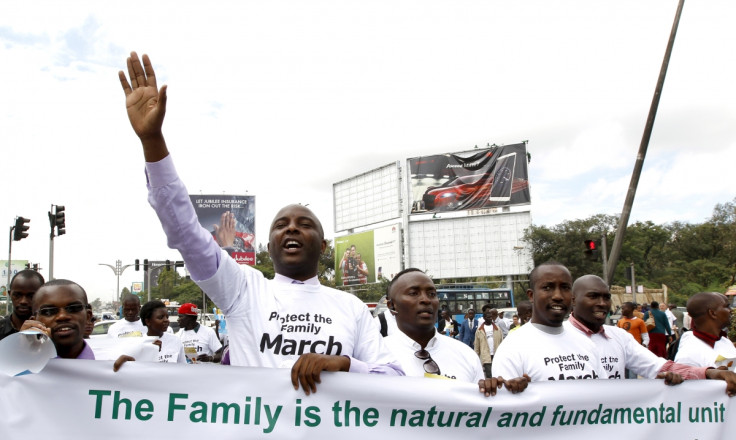 "On the other hand, we've also seen that their influence is somehow limited: for instance, they tried to organise a couple of marches and protests against homosexuality around the time of the Obama visit, but these were non-events with a very small participation of several dozens of people on the streets of Nairobi," she added.
Nairobi residents were not coming out in mass to show their anger about homosexuality, because, Ghoshal explained, there are other issues they are worried about. "They may have concerns from their own religious perspectives around homosexuality but it's not a priority for most Kenyans for the government to adapt a homophobic policy."
Progressive constitution, colonial-era relic penal code
These attitudes are also influenced by the media, in spite of Kenya's progressive 2010 new constitution, which guarantees all Kenyans the rights to privacy, equality, dignity and non-discrimination.
While the new constitution integrates international law, including treaties ratified by Kenya that prohibit discrimination on the grounds of sexual orientation into Kenyan law, the nation's Penal Code still criminalises same-sex relations between consenting adults.
Indeed, the Penal Code still proscribes "carnal knowledge against the order of nature" and "unnatural offences" – widely understood to refer to same-sex intercourse between men.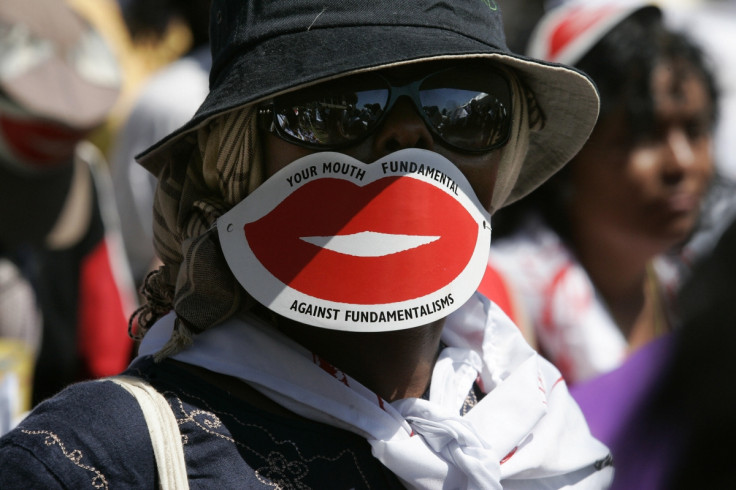 HRW has called for the repeal of penal code provisions that criminalise consensual same-sex conduct, and has asked the Kenyan government and the attorney general to propose further measures to align the Penal Code with the constitution.
"Although there is a homophobic law in the books, which is the section 162 which criminalises so-called 'carnal knowledge against the order of nature', there's not a top-down homophobic policy in Kenya, like one might find in some neighbouring countries, but there is no willingness among most of the government and the political elite to take a leadership issue and a principled stance on behalf of LGBT people's right to be free from violence.
"It should be an easy issue for any political figure to say this kind of violence - somebody being slashed in the neck with a broken bottle simply because of his presumed sexual orientation - is not acceptable in Kenya. That's an issue where politicians can say they understand people have different beliefs about sexual orientation and gender identity, but we have a very clear constitution which ensures that everybody has the right to equality, non-discrimination and that includes LGBT people."
14 years or a life sentence? What the law actually says in East and Southern Africa
Kenya's anti-homosexuality laws are actually fairly similar to most other countries in Anglophone East Africa and Southern Africa because they are relics of British colonialism.
Almost every country that is a former British colony inherited the same laws that, generally across the board, provides for 14 years of imprisonment for "carnal knowledge against the order of nature".
In Uganda, the law is regarded as harsher as it criminalises even without the anti-homosexuality act, which was invalidated by the court in August 2014.
The president Yoweri Museveni signed a law that not only outlaws homosexual acts, but also forces citizens to report suspected homosexual activity to the police. The Ugandan law was also changed to provide for a life sentence, rather than the typical 14 year sentence.
However, in Kenya, Uganda, Malawi, Zambia and Tanzania, "it is quite rare that people are prosecuted under these laws as it's difficult to prove what everybody has been doing in their bed", according to HRW's Neela Ghoshal. Indeed, HRW research shows that police does not pro-actively prosecute people under these laws.