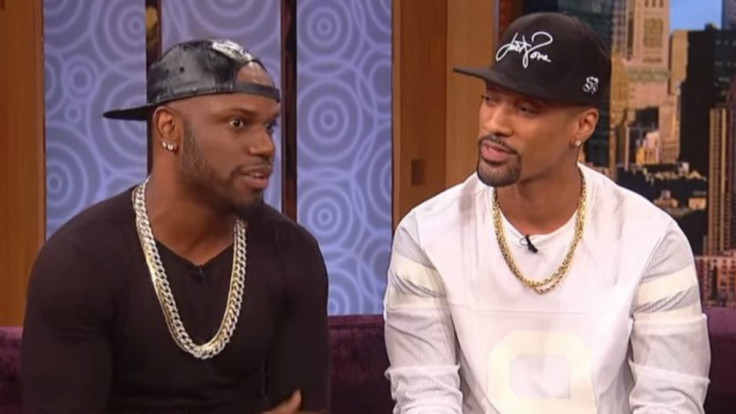 Addressing the controversial subject was a risky move but viewers have praised VH1's LHH: Out In Hip Hop special for opening up the conversation about homophobia in the music genre. The episode, which aired on 19 October, focused on the relationship between gay couple Milan Christopher and Miles Brock, who previously chose to keep their romance under wraps to avoid prejudice.
During the round table discussion which was hosted by ABC News' TJ Holmes, the Love & Hip Hop: Hollywood stars served as the centrepiece to the debate about the lack of acceptance for same-sex couples within rap culture. In the episode of LHH: Hollywood which aired before the special, rappers Christopher and Brock, also known as SIIR Brock, officially came out after fearing the reaction from the music industry and their families. Shocked to hear the news was Brock's ex-girlfriend Amber, who was completely unaware of his true sexuality.
Although Christopher, 29, was already openly gay before appearing on the series, Brock, 27, kept his sexuality a secret from his family. As the episode aired, viewers heaped praise on the taboo conversation on Twitter with one who was initially apprehensive commenting: "Just finished "Out in Hip Hop". I was surprised and impressed that there was actually thoughtful dialogue."
Sharing a similar sentiment, one user said: "Out in Hip Hop is a Great Platform to get a better understanding of People being Homophobic in the Hip Hop Game. This discussion is needed." Another impressed viewer chimed in: "#LHHH Out In Hip-hop was great. Love yourself and s/o to all different sexes u are loved," while another tweeted: "I am so glad "Out In Hip Hop" happened. Nuanced, powerful, and honest as hell."
Watch Milan Christopher and Miles Brock's Wendy Williams interview:
Ahead of the special, Christopher and Brock made an appearance on The Wendy Williams Show where Christopher shared his hopes that the episode will change attitudes to gay rappers. He told Williams: "I think it is definitely an issue. With Out In Hip Hop... it's going to change the climate of people trying to come out and be successful. Even with Love & Hip Hop and VH1 having us on the show is going to help change the climate so I think it's a great thing."
In 2012, r'n'b singer Frank Ocean hit headlines with a letter he wrote and shared on Tumblr, admitting that he has once had feelings for another man. When asked if they feel the Swim Good singer has opened doors for other artists to come out, Brock said: "I personally do because he was like the first, even though he's a singer and we're rappers."
However, Christopher pointed out that Ocean, 27, has never described himself as gay, adding: "I don't know because Frank Ocean has never actually claimed [to be gay], he never owned it. He never said, 'I am gay', or 'I am this'. He wrote a letter on his Tumblr that was read and interpreted by the media but he has never once had an interview or did anything saying he is homosexual. So, I don't even know if he's really gay or not."
Love & Hip Hop: Hollywood continues on 26 October in the US.