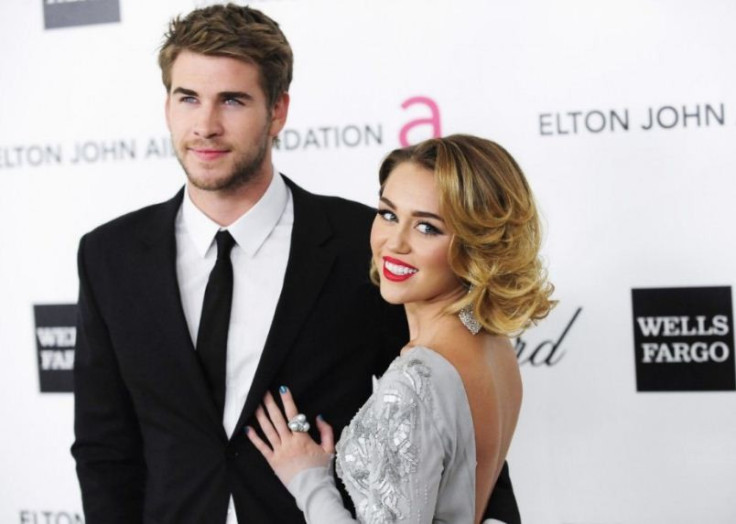 Miley Cyrus remains busy as she serves in the panel of coaches for The Voice season 11. While the pop star is judging singing talent on the NBC reality show alongside Alicia Keys and show veteran Adam Levine and Blake Shelton; her boyfriend Liam Hemsworth is reportedly giving her the company on the set.
While Hemsworth stands by his love interest during the shoot, reports have surfaced suggesting that Australian actor has been maintaining distance from the Wrecking Ball singer's male co-stars on the show.
"Miley and Liam keep it professional for the most part. But he's there (on The Voice set) every day! They're kind of obsessed with each other," a source told Star magazine (via Hollywood Life). "Liam doesn't really talk to anyone else, aside from Alicia Keys. Everyone thought he'd hit it off with Adam Levineand Blake Shelton, but the boys have kept their distance," the source added.
"During the season, he is [also] expected to be on set while she works," a source told Hollywood Life ahead of the season premiere. Before The Voice returns on TV on 19 September, the panel of coaches featuring newcomers Keys and Cyrus have been filming promos, Blind Auditions, Battle Rounds, and Knockout Rounds.
Considering the fact that Cyrus and Hemsworth have emerged as a power couple over time, despite keeping their relationship low-key in the beginning; it shouldn't come as a surprise to the fans if Hemsworth lurks around the set in future.
The pair's romance has seen quite a few ups and downs since 2009, when they started dating after meeting on the set of their movie The Last Song. Taking a step further, the two even got engaged in 2012 before calling it quits in the September of 2013. Following a short hiatus, the singer-actor couple reunited in January 2016 and ever since, they seem to be going strong.