There was a shock around every corner of last night's Liar, with viewers left gobsmacked after the policewoman realised she had been raped seven minutes into the episode, and that Andrew Earlham had a whole stash of films of him raping women in his elderly mother's shed.
The gripping ITV series starring Joanne Froggatt and Ioan Gruffudd got off to a spine-chilling start after DI Harmon was seen visiting the doctor's after she began bleeding. She feared she may have lost her baby, but was relieved when she was told that her unborn child was fine.
The shocking revelation came after last week's episode when viewers learnt that Andrew had raped a third victim. He was seen drugging DI Vanessa Harmon in her own home before taking his clothes off.
Andrew stroked her face in a creepy manner before raping her, but further horror came when she found out she was pregnant after checking an app on her phone.
There were early signs that he had assaulted her, such as him staring at her social media profile and asking her out for a drink once he realised he has escaped justice.
Viewers couldn't control their emotions as they took to social media in their droves, with many actually blaming the male police officer for raping DI Harmon in an unexpected twist.
One person tweeted: "Andrew did not rape her. Andrew filmed the old police officer guy raping her. 100% bet all my money on it. YES YES YES #liar #liaritv".
Another put: "Anyone else watching #liar think the older male police officer may be an accomplice? I feel like watching all the episodes again for clues!"
A third added: "Starting to think the old police guy has some involvement #Liar".
The tense episode also revealed Andrew's sociopathic ways in more detail, with one eerie scene showing the grimacing surgeon paid a visit to Sylvia and asked if he could store something in her shed.
After he unlocked the shed and opened up his bag, a close-up showed him holding a plastic bag full of glass vials, and an album full of memory cards, one of which he slotted into a camcorder.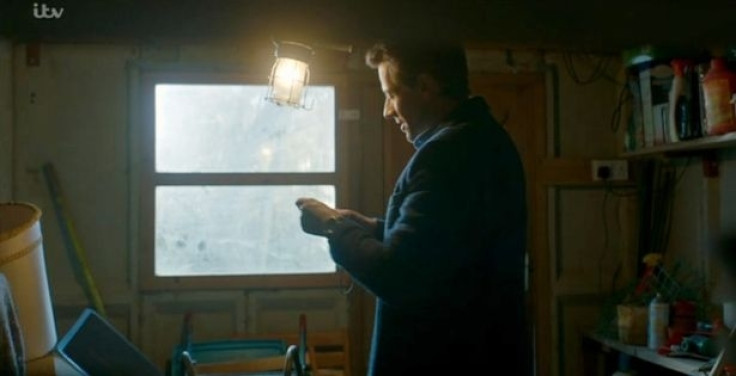 Viewers were further disturbed by this, with someone tweeting: "HE HAS VIDEO TAPES?! ARE YOU SERIOUS?!!! This piece of absolute shittttt. #Liar."
Someone else said: "another way to get andrew is a search warrant on his mother's Property (tapes in the shed) #Liar".
The last episode of Liar continues next Monday at 9pm on ITV.