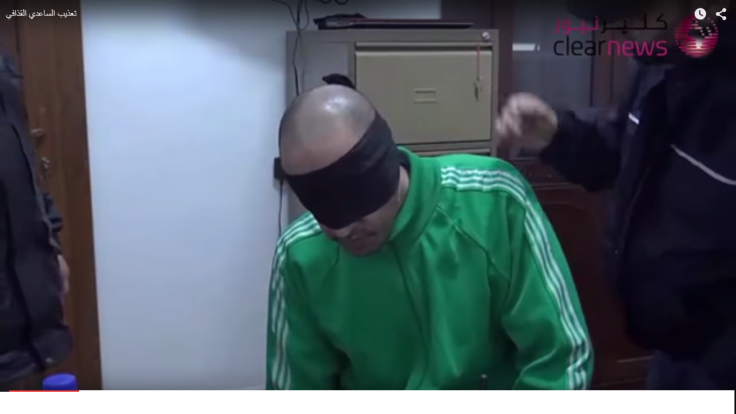 Libyan state prosecutors have launched an investigation after a video emerged which appears to show prison guards in Tripoli torturing and beating al-Saadi Gaddafi, the son of deposed dictator Muammar Gaddafi.
Saadi, 42, was extradited to Libya from Niger last year, and has been in a Tripoli prison accused of crimes under his father's dictatorship including killing a football player when he was in charge of the Libyan Football Federation. The undated video appears to show Gaddafi being hit around the face while being questioned, and tied to a rack and beaten on the soles of his feet.
In an interview with Russia Today, Melinda Taylor, an International Criminal Court lawyer for al-Saadi Gaddafi, said that she believed the man in the video "does appear" to be Gaddafi. "He looks the same in sense [that] his head ... [had been] shaved which happened to him last year," she said.
The video emerged after a court in Tripoli sentenced Colonel Gaddafi's eldest son Saif al-Islam and eight former officials to death over crimes committed during the successful 2011 rebellion that deposed the dictator. Libya's state prosecutor said it had launched an investigation to identify the guards in the video and launch legal action against them. "The graphic video that seems to show prisoners being beaten raises serious concerns about the methods used to interrogate al-Saadi Gaddafi and other detainees at al-Hadba prison," Joe Stork, deputy Middle East director at New York-based Human Rights Watch, told Reuters.
Gaddafi was renown under his father's regime for his involvement in football, demanding his own selection for the country's national team and making one substitute appearance for Italian Serie A club Perugia before failing a drugs test. He was allegedly involved in violently suppressing anti-government protests in 2011.
The 2009 Wikileaks US diplomatic cables describe his "abuse of drugs and alcohol, excessive partying" and "profligate affairs with women and men". After fleeing Libya al-Saadi was held under house arrest in Niamey, capital of Niger, before being extradited to Libya.
In the video, Gaddafi is blindfolded, and is made to listen while two men are beaten and tortured in the next room. The blindfold is then taken off and he is forced to listen to the men being interrogated. Gaddafi is then made to lie down and his feet are bound in a raised position on a trestle and beaten while he screams in pain. He is then seated again and hit on the face while being interrogated.
Taylor described the footage as evidence of an "international crime, crime of torture and cruel and inhumane treatment". She added: "It appears to be criminal treatment in the sense of it being severe physical treatment and also psychological in the sense that he is being forced to listen to other people apparently being tortured."
Libya descended into chaos after Gaddafi was ousted, with Islamist coalition Libyan Dawn and the internationally recognised government fighting for control of the country. Saif al-Islam was sentenced to death in absentia as he is being held by rebels in Zintan, beyond the government's control.