Al-Qaeda's affiliate in Benghazi, Ansar Al-Sharia, has released Islamic State (Isis)-style propaganda showing militants whipping three prisoners. The piece of staged political theatre in which armed, masked militants lash three prisoners in orange jump suits is taken directly from IS's playbook.
The only way the pictures, posted on websites supporting the militant group, differ from those now frequently released by the IS offshoot in Libya is through their use of the Ansar Al-Sharia flag, similar to the terrorist group but bearing another script.
The Quranic words and the organisation's name, which means "supporters of Islamic law" appear in the photos and in the logo imposed on the images. Accompanying subtitles explain the photos show "Benghazi's Islamic Court maintaining regulations in Benghazi".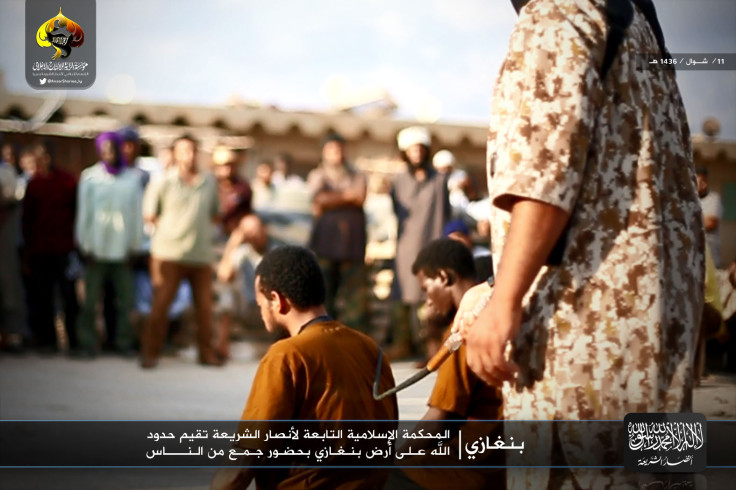 They also explain the lashings were carried out by "Islamic police" on residents from the areas of Benghazi controlled by the militants and in front of a public gathering. The alleged crimes of the three men is not mentioned.
The images show in detail the lashing and then the release of the prisoners. Ansar Al-Sharia declared the creation of an Islamic court in Benghazi in January operating out of the south of the city.
The striking similarity between the use of propaganda by Ansar Al-Sharia in Benghazi and IS show the extent to which the lines between Libya's different Islamist groups in have become blurred.
Ansar Al-Sharia, classified as a terrorist organisation by the US and the UN, is held responsible for the 2012 attacks on the US consulate in Benghazi that led to the death of US ambassador Chris Stevens.
The group was the pre-eminent Islamist brigade in Libya prior to the advent of IS in the country in June 2014. However, a number of fighters have moved over to the terrorist group meaning many locals in Benghazi say they no longer differentiate between the militants in the different set-ups.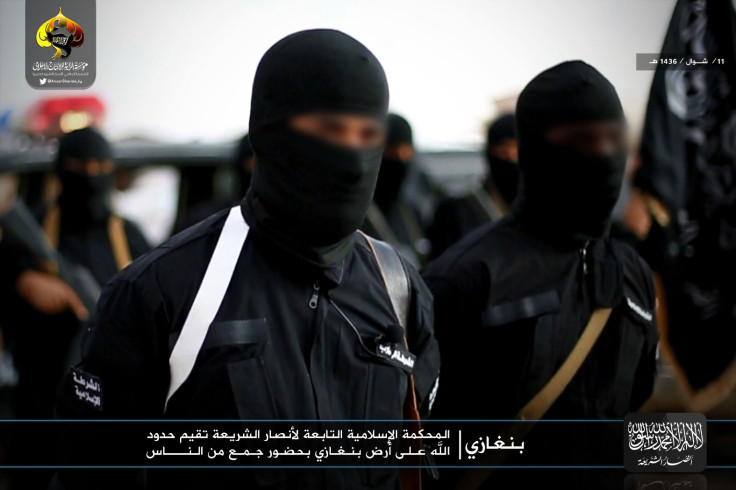 Both Ansar Al-Sharia and IS fight together in a broader coalition of Islamist forces battling the Libyan Army under the banner of the Benghazi Revolutionaries Shura Council. The group is confined mostly to enclaves within the city as government grind a slow and costly advance through the city.
Daily fire fights, civilian casualties, bombings and shelling have become the norm in Benghazi as the Libyan National Army, headed by controversial leader Khalifa Haftar, a former Gaddafi general, attempts to wrest control of Benghazi from the Islamist militias.
Following months of a gruelling campaign of street-by-street fighting by Haftar's forces, the Libyan Army now controls the east and centre of Benghazi but revolutionary council forces still remain ensconced within traditional Islamist districts in the east.