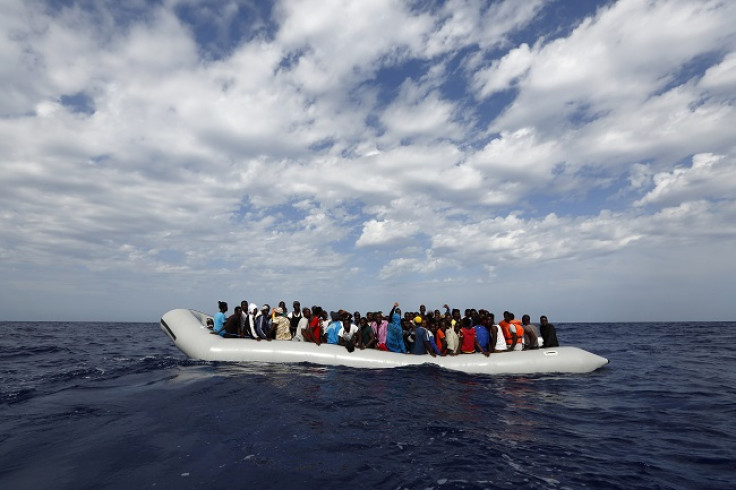 A boat with 700 migrants capsized near the Libya coast, prompting a major rescue operation by the Italian coastguard on Wednesday (5 August). So far 25 bodies have been recovered, said Italy's coast guard.
Around 400 people have been rescued after the large wooden boat capsized. Hundreds more are feared drowned, the Italian coastguard has confirmed to IBTimes UK. The incident took place some 15 miles north of Zuwarah in Libya.
The Doctors Without Borders (MSF) vessel Dignity and the Irish 'Niamh' military boat were believed to be close to the area to offer first assistance, and other rescue vessels from various nationalities, including the the MY Phoenix, MSF vessel Argos, the Italian Fiorillo Coast Guard ship, and the Migrant Offshore Aid Station (MOAS) ship Phoenix are heading there.
The boat sent a distress call this morning to Catania coastguard and the Irish 'Niamh' rushed first to the area. As soon as they spotted the rescue vessel, the migrants on the overcrowded fishing boat rushed to one side, causing it to overturn.
The Irish navy told AP that 150 people were spotted in the sea and an Italian military helicopter was lowering life rafts.
Earlier on Wednesday, the Dignity 1, a vessel run by Doctors Without borders (MSF), rescued 94 people, including 15 women and a five-year-boy:
The incident took place after the International Organization for Migration (IOM) said the death toll of the Mediterranean migrant crisis surpassed 2,000, with the majority losing their lives in the Channel of Sicily trying to reach Italy (1,930).
As reported by the IOM, rickety vessels used by Libyan smugglers and traffickers in the central Mediterranean route connecting Libya and Italy "significantly increase" the likelihood of tragedies occurring.
"It is unacceptable that in the 21st century people fleeing from conflict, persecution, misery and land degradation must endure such terrible experiences in their home countries, not to mention en route, and then die on Europe's doorstep," said IOM director general William Lacy Swing.
A total of 188,000 migrants have been rescued in the Mediterranean so far. In April, more than 800 migrants died after a boat capsized off the Libyan coast.
UPDATE 16:50 Italian Coast Guard commander Filippo Marini told AP that 400 migrants had been saved and 25 bodies recovered from the water.
UPDATE 15:40 The rescue team on the MSF's Dignity has confirmed "many deaths" in the incident: