Civil-war torn Libya's biggest oil port may reopen in two weeks.
Al Mabrook Bu Seif, the chairman of state-run National Oil (NOC), told Bloomberg over the weekend that his team will start contacting existing clients to coordinate crude exports from oil ports.
Loading ports
Seif told the news agency that force majeure could be lifted in two weeks on loadings at Es Sider, Libya's largest export terminal and at neighbouring Ras Lanuf, the third-largest, as Islamist militias pulled out from the region.
Seif's team operates from Ras Lanuf.
Seif was appointed by Libya's elected government, now based in the east of the country and his team will replace NOC's rival management in Tripoli.
He also called on buyers to coordinate with his management for loadings at the two ports under the control of the Tripoli-based government.
Divided state
A government backed by an Islamist militia alliance controls western Libya, from Tripoli.
The Islamic State (Isis) controls vast swathes of central Libya.
And the internationally recognised government of Abdullah al-Thinni operates from the eastern city of Al-Bayda.
Government funding
On 4 April, Al-Thinni's cabinet asked its management at NOC to open a bank account in the UAE, the Libya News Agency reported.
The cabinet also authorised NOC to barter crude exports for gasoline imports to ease local shortage of fuel.
A UAE bank account could boost the Al-Thinni regime's ability to secure funding.
Libya's central bank, where oil buyers transfer their payment, has refused to take sides and only pays expenses approved before the North African country split up.
Port operability
Es Sider has a loading capacity of 340,000 barrels a day and needs at least a month to resume exports.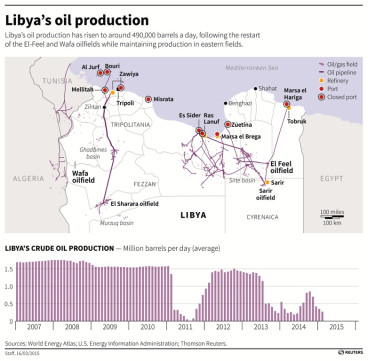 Pipelines around storage tanks have been damaged and electrical supply has been cut, the port's emergency team chief Abdulwahed al-Sheikhy told Bloomberg on 3 April. Of its 19 storage tanks, 10 are intact, containing 2.14 million barrels of crude ready for export.
Ras Lanuf, with a loading capacity of 220,000 barrels a day, suffered no damage.
Al-Thinni's government controls five of Libya's nine oil export terminals.
The Islamist-backed administration controls two -- Zawiya, the nation's second-largest and Mellitah, the fourth-largest. The remaining two are offshore loading platforms.
Opec-member Libya produces 500,000-600,000 barrels of oil a day, as against some 1.6 million barrels before the 2011 Arab Spring toppled Muammar Gaddafi.