Like a takeaway at the stadium: What if we didn't have to queue anymore?
Start-up aims to eliminate queues at big events by allowing customers to pre-order their food and drinks
Most of us have found ourselves in similar circumstances. At the football, at a festival or during a gig - whatever the event, the prospect of queuing up for drinks or food is never an enticing one, particularly as it almost invariably leads to missing some of the action on the pitch or on stage.
Seasoned sports fans and concert goers have often tried to leave their seats shortly before half-time or in between sets to beat the rush, but the tactical benefits of such a strategy have long disappeared given the increasing number of people following a similar approach.
However, spectators at some of Britain's major racecourses and theatres can simply walk up to the bar at half-time and pick up food and drinks they have pre-ordered via their phones.
Yet awareness about the technology remains relatively limited. Is it because of Brits' long-lasting love story with queues does the problem lie elsewhere?
Matt Graywood, chief operation officer of e-commerce platform Preoday, the platform behind the technology believes the answer has little to do with habits.
"It's not that hard to convince people to change their habits if the benefit is clear," he tells IBTimes UK.
"What is harder is raising awareness of the alternative methods available. Humans like to feel safe and stick with that they know, but their need for ease and convenience is stronger."
The National Theatre, the Old Vic, Dublin's Aviva Stadium, Bath Rugby's Recreation Ground, London's Excel Exhibition Centre and the Royal Opera House are among the venues equipped with the technology.
The Jockey Club, which operates 15 racecourses in Great Britain, including Epsom and Cheltenham has also adopted the platform, as has entertainment promoter Ticketmaster.
A 'tipping point' is imminent
Last year, Preoday polled members of a stadium audience in Sweden and found 77% said a long wait for service can create a negative experience.
On average, they had waited 30 minutes to make their purchases and, on the day, 40% didn't even leave their seats to attempt to try and buy food or drink. Clearly faster methods of ordering and collection could cause a positive change in similar venues, which is why Graywood believes the technology will reach "a tipping point" over the next 12 months and will then spread quickly.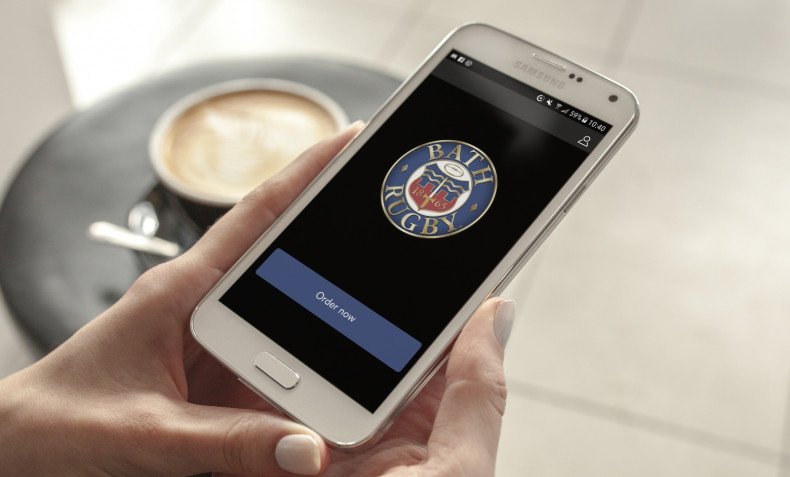 For example, at Bath Rugby's Recreation Ground, all fans have to do is log onto the club's app, select the drinks and food they want and choose whether they would like to collect their order before the game or at halftime.
Once they want to collect their order, fans queue through a dedicated lane in one of the bars, thus avoiding much longer queues elsewhere. As IBTimes UK found out when it tested the system itself, the whole process takes a fraction of the time compared to a normal queue, much to the chagrin of the spectators stuck in the traditional line.
The new system has just been introduced but according to Bath's director of operations Alex Cohen, it has already proved a roaring success.
"We had to think through how we present the app to the supporters but, although it's in its infancy, it's going really smoothly on the ground and gathering good pace with the supporters," he tells IBTimes UK.
The caveat of this particular technology is that it is accessible only via a smartphone. While they make up the overwhelming majority of handsets these days, would less tech-savvy fans find the system not appealing?
"We have a huge range in the demographics of our supporters," explains Cohen.
"Our strategy has been to target the younger market which will, in turn, alleviate the queues for others less inclined to want to use this kind of technology. There is more for us to do in that respect but passing trade on the day has also proved fruitful."
Beyond food and drinks
The company has also tapped into other branches of hospitality, an industry which Preoday CEO Andrew White described as being "15 years behind retail in terms of technology".
It has partnered up with restaurants and food outlets across Britain, Europe and the US, allowing customers to order food online like a normal takeaway, but unlike some the more established brands in the industry it does not charge fees.
Just Eat, for example, charges restaurant a commission of approximately 14%, while Preoday's plans include unlimited, commission-free orders, to avoid what the company describes as "nasty surprises" at the end of the month.
"We charge a low, monthly fee per outlet and that's it," explains Graywood.
"The cost of the Preoday platform is is affordable for even the smallest of businesses."
Last month, in partnership with ForPOS, Preoday launched Oxford Orders. The online hub, the first of its kind, aims to provide a platform for all businesses that can benefit from pre-ordering and could soon be utilised in other cities across the UK.
Businesses will be charged just £2 per month after a nominal set-up fee, which is expected to encourage the fostering of relationships by giving businesses a direct way to reach local consumers.