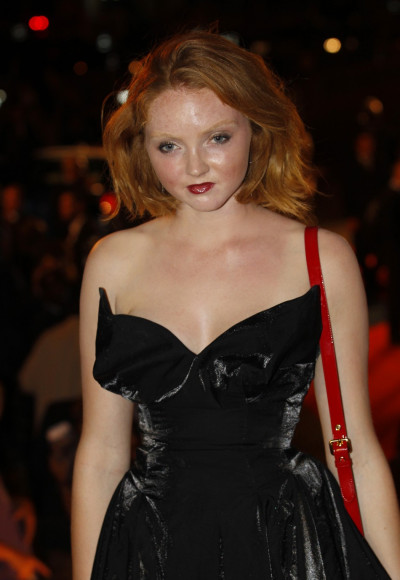 Lily Cole launched her modelling career at the incredibly tender age of 14. She was signed by Storm Models and, it seemed, she already had all that anyone could ask for - beauty, money, fame. However, the young model always had a straight head on her shoulders and refused to be turned by all the riches that came her way; her education remained her top priority
So much so, in fact that despite being in great demand, she accepts only hand-picked assignments.
The young supermodel has now come forward, to share her expereince on how it is not always easy to be a glam doll!
In a collabaration with the New Thinkers Index, an interactive digital content experience where people can discover new thinkers who are shaping the future, Cole has released a new short film, in which she shares her theory and views on perfection.
The Cambridge graduate admits she has put herself under pressure to maintain a certain look in the past. However, over time realised she not only that no one was perfect but the very concept of that word "perfection" was dangerous.
"I absolutely don't believe in perfection, I don't believe it exists and I don't believe it's necessarily interesting. I've put myself under a lot of pressure in the past, too skinny or too fat or in terms of intellectual pursuits or career pursuits. I've come recently to realise it can be quite a destructive way to live life," the 23 year old said, "A lot of advertising can make people think you're not enough as you are, you're not enough until you have that or look like that."
Cole's insistence on the unreasonable demands of the fashion industry are not really something new. It is a long-standing debate that has seen several activists take up the cudgels, for either side.
Back in 2010, Love magazine posted casting photos of models from Louis Vuitton's Fall-Winter show - without make-up - unmasking, as it were the truth behind all the glamour. The list of models Adriana Lima, Rosie Huntington-Whiteley and Bar Refaeli. The web page for Love magazine is no longer available but the story is also available on this Huffington Post link.
Meanwhile, in the same year, Cole, in a Daily Mail report, was quoted as confessing she had enough of modelling.
"I've been doing modelling for years and I feel like I've taken out of it what I need to and I'm ready for new things," she explained.
The point that Cole was trying to make, we believe, was that modelling was (and still is) too much about perfection. The demand for perfectly aquiline features, flawless skin, the perfect height and posture and so on and so on rather takes away from the fact that the models are as human as the women they inspire and the danger is that in attempting to follow such high standards, a number of women do fall ill, often dangerously. The truly unlucky ones die.
Wouldn't it be lovely, therefore, as Cole indicated, to know that these women, supermodels they may be, are, underneath the chemical coating, only as pretty as the next woman out there?
Check out Lily Cole's Video:
To see more of the whole video of Lily Cole,
To see more of the video and learn more about the project, click here.
Also, start the slideshow to see more supermodels in their all-natural look..