Phil Collins' actress daughter Lily Collins has penned an emotional letter about the pair's strained relationship.
In her new book Unfiltered: No Shame, No Regrets, Just Me, Lily is candid about her father's lack of parenting but says she has forgiven the Against All Odds singer. Phil, 66, split from Lily's mother Jill Tavelman in 1996, prompting the five-year-old and her mother to relocate to Switzerland and then Los Angeles.
Addressing the Genesis stickman's absence throughout her early childhood, Lily, 27, writes: "I forgive you for not always being there when I needed and for not being the dad I expected. I forgive the mistakes you made. And although it may seem like it's too late, it's not. There's still so much time to move forward.
"We all make choices and, although I don't excuse some of yours, at the end of the day we can't rewrite the past. I'm learning how to accept your actions and vocalise how they made me feel. I accept and honour the sadness and anger I felt toward the things you did or didn't do, did or didn't give me."
In the memoir, Lily also details her battle with eating disorders like anorexia and bulimia, both of which she attributes partly to stress caused by her father's divorce from his third wife Orianne Cevey in 2008.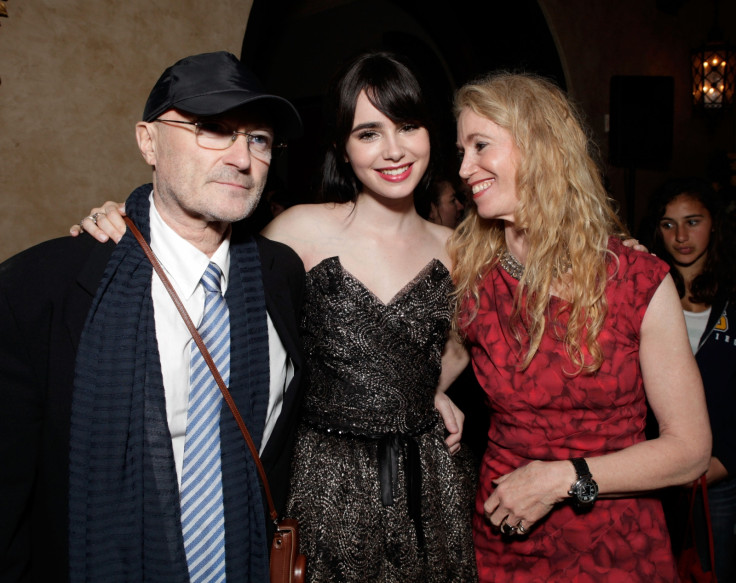 The Golden Globe-nominated actress explains: "Not only did I start viewing myself differently physically, but I began limiting my happiness by controlling my eating habits. I couldn't handle the pain and confusion surrounding my dad's divorce, and I was having a hard time balancing being a teenager with pursuing two different grown-up careers. Many of my deepest insecurities stem from these issues with my dad."
Phil has now rekindled his relationship with Cevey, revealing in January 2016 that they were living in Miami, Florida. The In The Air Tonight singer previously addressed his highly-publicised divorce with Cevey, which cost him a reported £24.3m, admitting it was a "mistake".
Reflecting on his turbulent love life, Collins previously said while appearing on Australia's Sunday Night: "While three divorces might seem to suggest a casual attitude towards the whole idea of marriage, this couldn't be further from the truth... Yet certainly that trio of divorces demonstrates a failure to co-exist happily and to understand my partners. It suggests a failure to become and stay, a family. It shows failure, full stop."