Walking Dead season 7: Andrew Lincoln weighs in on Rick's death
Lincoln teased that the war between Negan and the Alexandrians might produce tragic results.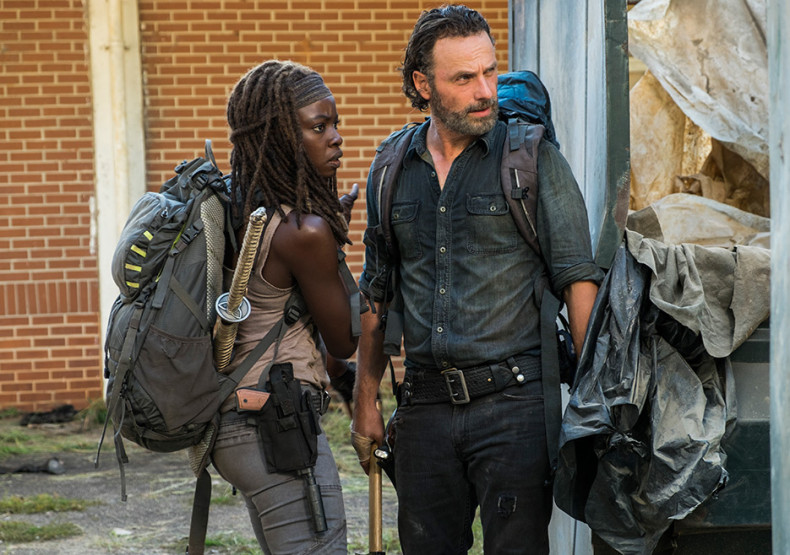 The Walking Dead season 7 pulled a Glenn moment and almost shocked fans when Rick Grimes was almost eaten by the walkers right before Michonne's eyes. Seeing the development the distraught sword wielder was about to give up and ready to be eaten by the zombies, but suddenly Rick appears from a dumpster and helped his lady love to fight back.
The death-defying scene left a lasting impact on viewers but they were more shocked after learning the possibility that Rick, the lead protagonist of the AMC thriller, is not immune to death.
Andrew Lincoln, who plays the popular character, teased that the looming war between Negan and the Alexandrians might produce tragic results after which Michonne might need to lead the team.
"It's that moment where she is incredibly vulnerable, she's shocked by what just happened and how much she feels for Rick and how undone she is by what just happened, by essentially seeing him die," Lincoln told Variety.
Michonne was visibly distressed with the very thought of losing Rick and the Alaxandria Safe Zone leader knew that. Therefore, he tried to prepare her for the war his group will fight with the Saviors and that she needs to prepare herself for the casualties including him.
"So Rick in exchange — it is an exchange — he tells her about the fact that he feels haunted by the death of Glenn. It's a sort of exchange of vulnerability which enables them to become stronger. They become more whole. I think that's basically their relationship: They become more human, more whole, with each other; he said and added that Michonne will lead the team in Rick's absence.
"She knows that if he does die — and he will die at some point — the community has to go forward. And she is an absolutely qualified leader in her own right. Rick is no fool. He's in the firing line. He's going to war with the Big Bad Wolf and there's going to be collateral damage."
However, the actor also teased that there still time before the Negan Vs Rick war as the Alexandrian leader still need to bring more men to his side to defeat the Saviors. "There's sort of a line around the block now, isn't there? But we've got to get the Kingdom on our side first, or somebody else, so there's a long ways to go before we can even really think about that question," he added.
The Walking dead season 7 airs every Sunday nights on AMC in the US and on Mondays in the UK on Fox.