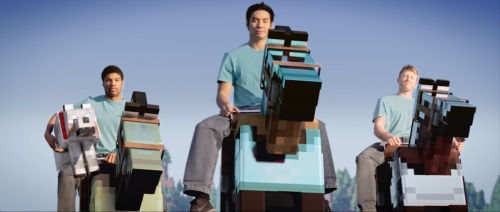 Birth of Man is a live-action fantasy epic that just so happens to be set in the world of hit videogame Minecraft.
Created by Brandon Laatsch, who co-created popular YouTube channel Rocket Jump, the project is seeking the backing on crowd-funding platform Kickstarter and – in the teaser video – boasts some impressive special effects.
It's certainly strange, and I'm not completely sure whether it's supposed to be funny or not, but it does have some striking visuals.
Laatsch and his team are seeking $600,000 (£366,000) and are offering backers a spot in the credits, access to a Production Diary, day one downloads of the film and – if you pledge $10,000 or more – a paid-for semester's worth of classes at an actual film school.
On the film's Kickstarter page, the group explains why they want to make this film: "We have been repeatedly disappointed by Hollywood's interpretations and creations of movies based on popular video-game franchises. We would love to see a video-game movie done right, and we feel that, as people with their feet in both the gaming and film-making worlds, we are the right people to do it.
"We specialize in creating films containing blockbuster quality on a hundredth of the budget that Hollywood requires by utilizing modern technology and a "think-outside-the-box" attitude approach to film-making."
Fan-made films based on videogames are nothing new. Many have been made about Half Life 2 for example, including the impressive and exemplary Escape From City 17.