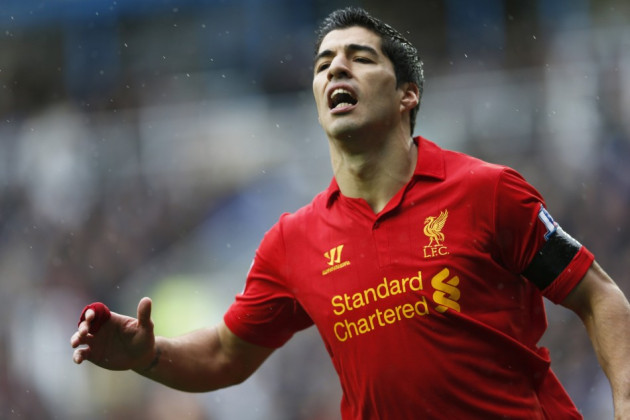 Arsenal are confident that an increased bid for Luis Suarez will persuade the striker to force a move away from Liverpool after their initial £30m bid was rejected earlier this week.
The Gunners have been left frustrated in their pursuit of Real Madrid forward Gonzalo Higuain and their primary focus has now switched to Suarez who has indicated on several occasions that he would be prepared to leave Liverpool this summer if the right offer arrived.
Suarez had been heavily linked with a move away from the Premier League but indicated just days ago that he would consider staying in England as he suggested he was happy to be linked with Arsenal.
"I have to go back on July 21 to present myself in Liverpool and then travel for a pre-season game in Australia," Suarez told Uruguayan radio station Sport 890.
"But in football, as I have always said, you never know what is going to happen. I've said everything I have said. As things stand I have to present myself there but just a phone call could change those plans. It is good to know I'm still valued by teams like Arsenal."
Liverpool have already rejected one offer and the Telegraph believe that even if an offer of £40m arrived they would resist the temptation to part with the often controversial striker.
The Reds are determined to keep hold of their prized asset as they believe he is vital to helping the club move forward and challenging for a top four place and major trophies.
Reports suggest that Liverpool rate Suarez higher than former striker Fernando Torres so it may well take an offer in advance of £50m for the club to even consider allowing the Uruguay international to leave.
However, should Arsenal come in with another improved offer then they believe Suarez will attempt to force through a move by informing the Merseyside club of his desire to play in the Champions League.
Arsenal will have to come in with an offer around the £40m mark and it seems clear that they are now confident a deal can be completed after deciding against perusing long-term target Higuain.
The Argentina international would have cost far less than Suarez at around £27m, but Arsenal have become frustrated at Madrid's unwillingness to enter into negotiations.
Higuain, 25, has an impressive goal scoring record in Spain but Arsene Wenger is looking for a proven Premier League goalscorer and is prepared to break the bank in order to make sure he gets his man.