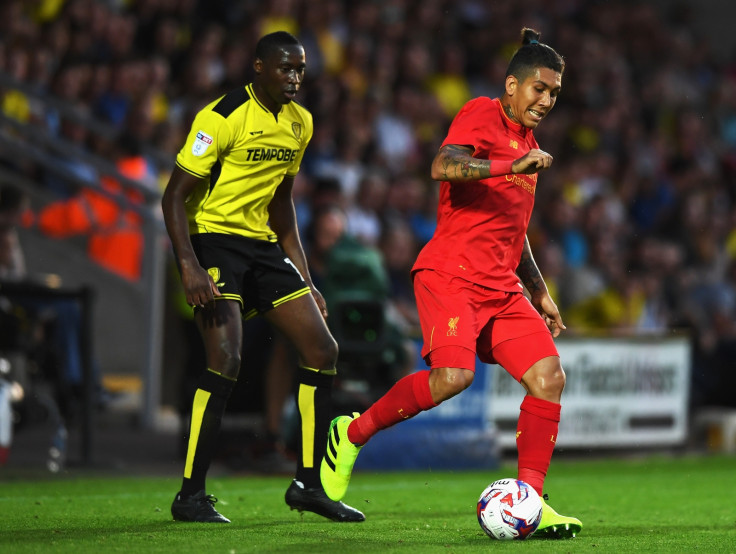 Liverpool forward Roberto Firmino aspires to emulate Barcelona star Neymar. The 24-year-old Brazilian has made steady progress since he joined the Anfield club in 2015 and Firmino feels that if he continues to work hard in the coming years, he can reach the level of his countryman.
Firmino has emerged as the spearhead of the Liverpool side this season under Jurgen Klopp and has quickly become one of the most dynamic attackers in the Premier League. The in-form Brazilian played against Klopp's Borussia Dortmund side during his spell at Hoffenheim – and he understands what the German wants from his players.
"I played against his teams for four-and-a-half years," the Liverpool forward explained, according to the Daily Mail. "I know what he wants from a player. When I heard that he was coming to be Liverpool manager, I was so pleased. I could not have been happier.
"I knew what he was going to bring here. He brought a style of work and play from Germany and the team has adapted to it. Our friendship is crystal clear. There is nothing behind it. He is a great person. If you do what he asks you to do, you will never let him down. Can he make me the Neymar of Liverpool? It all depends on me."
Meanwhile, Firmino admitted the high-octane style of football Klopp has tried to implement is perfectly suited to his own game. "I've been quite hyperactive since I was a child," the Liverpool star explained. "I don't like to stop. I do have moments when I like to relax but I'm always moving and that has always been the case since I was a boy. Nowadays that is the only way you can play football.
"You have to be on the move. I'm not that crazy and I know there are times when you have to stop. I like to relax, of course I do! But when I am inside the pitch, that is it. You have to go on full on from the first minute."
Of the Liverpool boss' playing style, Firmino added: "All of us have our qualities that add to the team. But our manager wants each of us to be like a runner. Don't stop. Never stop. Keep going. That is the way it is for him and that is the way I like to play. You always have to be in motion.
"It comes easy to me to run. I picked a lot of it up from Germany. I had four-and-a-half years there and I learned you have to be on the automatic button. Press it and you go, you keep running, chasing and working. I always try to do a bit more than I am asked."