Liverpool defender Jamie Carragher has announced that he will retire from competitive football at the end of the season when his contract with the club expires.
Carragher joined Liverpool's youth academy at the age of nine and successfully made his way through the ranks to make his competitive debut for the club against Middlesbrough in January 1997.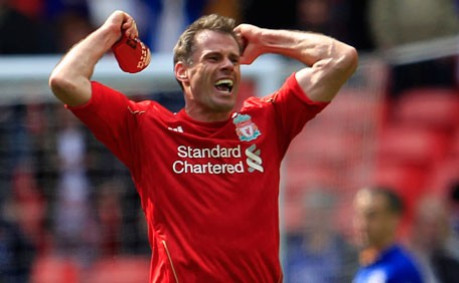 The 35-year-old has gone on to make more than 700 appearances for Liverpool and is second only to Ian Callaghan in the list of all-time appearances.
His contract runs out at the end of the season but there was a suggestion that he would get a new deal after putting in a man of the match performance in the 2-2 draw with Arsenal just last week.
He once again impressed against Manchester City at the weekend but Carragher has made it clear that he felt it was the right time to inform the club of his decision.
"This will be my last season at Liverpool and my last as a professional footballer," Carragher told the official Liverpool website.
"I'm making this announcement now because I don't want the manager or the club to be answering questions on my future when I've already decided what I am going to do.
"I will be fully committed between now and the end of the season to doing the very best for Liverpool Football Club, as I've done my entire career since joining aged just nine-years-old.
"It has been a privilege and an honour to represent this great club for as long as I have and I am immensely proud to have done so and thankful for all the support I have had. There are many memories I want to share and people to thank, but now is not the time for that.
"I won't be making any further comment on this decision until the end of the season; all our focus and concentration should be on achieving the best possible finish in the league this season and trying to win the last remaining trophy we are competing in."