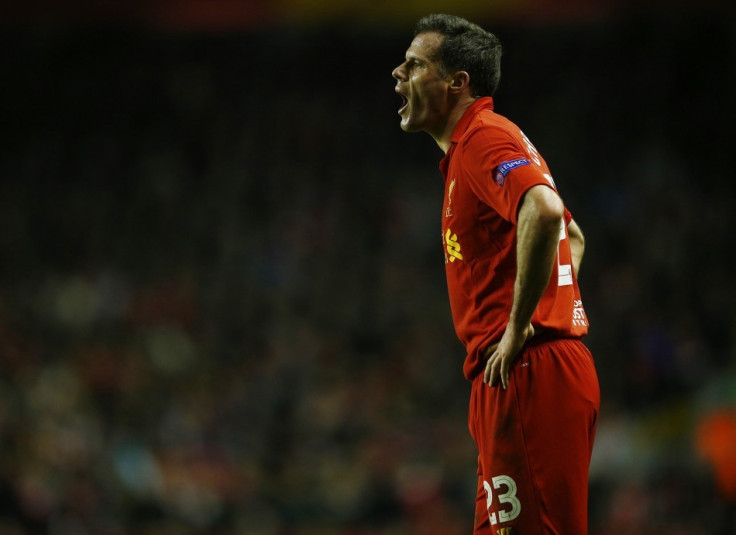 Brendan Rodgers says he isn't sure Liverpool will be able to find an apt replacement for Jamie Carragher in the summer, with the defender set to retire at the end of the season despite still being one of the club's best players.
Carragher announced that this season would be his last on the pitch at the start of the year, and while he continues to star week in and out for the Reds, at 35 years of age the defender insists it's time for a new chapter as he confirmed a TV deal with Sky Sports.
And Rodgers says that finding a replacement centreback in the summer will be a massive challenge, with Carragher having provided continuity as well as leadership in Liverpool's defensive line-up for the past 17 years.
He told the Liverpool Echo: "Jamie Carragher was immense, he has been a real colossal player for this club. He's got two games left and he was outstanding.
"His influence is superb. On the training field every day he's so professional.
"You see him now at 35, he's at the top of his game he's absolutely outstanding.
"Having worked with him now for so long I can clearly see why he was one of Europe's top defenders for so many years.
"We'll have to search far and wide to find somebody to be at that level but it's difficult."
Liverpool are in store for a very busy summer, with Rodgers hoping not to repeat the same mistakes as last year where he failed to purchase enough strikers in the transfer window.
Bringing in Daniel Sturridge and Philippe Coutinho in January showed just how much of a difference some good transfer dealings could make to the Liverpool squad, with the pair slotting into the side perfectly and the Reds currently boasting five wins and four draws in their last 10 matches.
The club will certainly be looking to move forward next season after missing out on a top four finish once more, and finding a replacement for Carragher will be the only way that they can come close to achieving this goal in their next campaign.