John Aldridge believes that Michael Owen tarnished his reputation at Liverpool by signing for arch rivals Manchester United.
Owen, who confirmed his retirement at the end of the season on Tuesday, scored 179 goals in 306 appearances across a seven-year professional career with The Reds, before showing only glimpses during a one-year spell with Real Madrid in the 2004/05 campaign.
The England international then moved onto Newcastle United, but upon the end of his four year deal at St James' Park and their relegation to The Championship moved to Liverpool's biggest rivals United.
And Aldridge believes the move denied him status as among the pantheon of Anfield legends.
"Michael was phenomenal at Anfield; in his early days he scared defences stiff with his pace and when he scored that magnificent goal for England against Argentina [at the 1998 World Cup] the world got to know about him," Aldridge told Sky Sports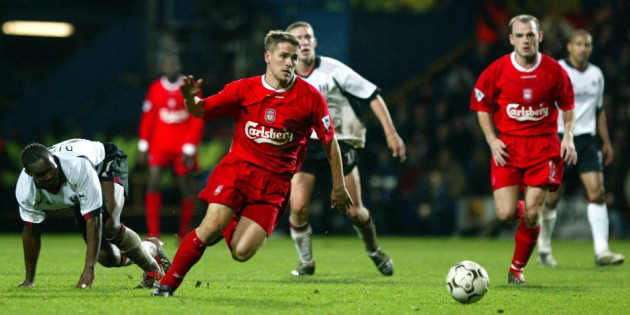 "However, Michael really tainted his time with Liverpool when he went to Manchester United and a lot of fans turned against him then; with the way Liverpool and Man United are, he became tarnished and, as such, he'll never be put down as one of the Liverpool legends."
While Owen might not be regarded among Liverpool's greatest ever players, Aldridge admits for England, the 34 year old deserves to be compared to the country's finest strikers.
"In international terms, he's right up there with all of the greats - Jimmy Greaves, Roger Hunt, Alan Shearer, Gary Lineker - as his goal-scoring rate was tremendous," he explained. "He never let England down and always tried to keep himself fit for them, and they have struggled to fill his boots."
Meanwhile, former Liverpool and England teammate Jamie Redknapp says Owen's checkered injury history denied him the opportunity to realise his full potential after an impressive start to his career.
"Michael was so quick - he was so much quicker than everybody else - that injuries were slightly different for him. When we used to do sprinting in training, he used to be two or three yards ahead of everybody else," he said.
"But he picked up lots of hamstring injuries and that subsequently stopped him. When he lost that extra yard that he had on everyone else it made him a mere mortal, so he had to rely on a touch and a shot in the box rather than running away from people."