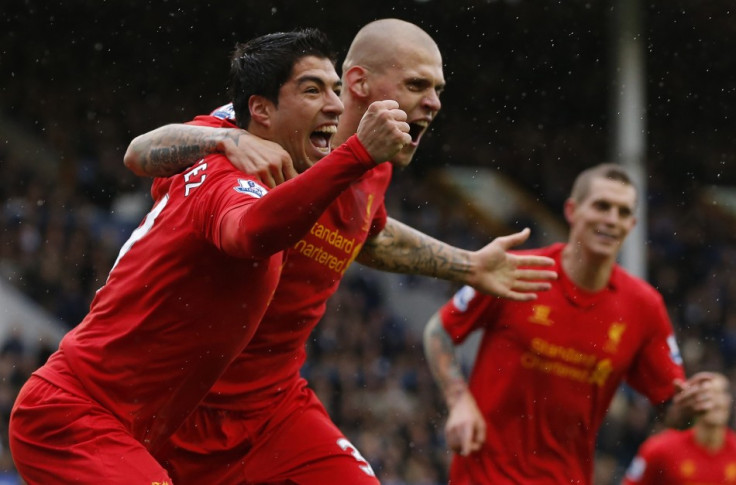 Luis Suarez cancelled out Yohan Cabaye's first-half goal to savour a point for Liverpool against Newcastle at Anfield, as the striker scored in the 67th minute.
The game marked Steven Gerrard's 600th for the club, but the captain was unable to take a win on the day, with Liverpool having to fight back from being a goal down in the second half.
Fabricio Coloccini received a red card in the 83rd minute for his challenge on Suarez, who once again was the Reds' saviour as they looked to limited striking options up front.
Liverpool youngsters Suso, Raheem Sterling and Andre Wisdom once again took front and centre, but it was Suarez who was needed the most as the side once again struggled in front of the net.
In fact, the hosts had more than twice of the efforts on goal that Newcastle had, shooting 23 times to 11.
Newcastle didn't look particularly dominant in the first half, but when Hatem Ben Afrfa passed to Cabaye at the far post, the Frenchman was able to finish in a way that would make any Liverpool fan envious.
Suarez equalised in the 67th minute, but even after Coloccini was sent off, Liverpool were unable to capitalise on their chances in front of goal, with Suso, Jonjo Shelvey and Raheem Sterling showing inexperience in their attempts to finish.
Brendan Rodgers insisted that there were positives to come out of the match, telling Sky Sports after the game: "I thought we were outstanding, I have to say, our intensity and possession was relentless in the game.
"We went to sleep just before half-time but for every other moment of the game I thought we were brilliant, and we deserved three points but we could just not put away any of the chances we had."