It's been a big year for Liverpool fans, with their fortunes looking more likely than ever to be turned around under a new dawn of viable ownership and legendary manager Kenny Dalglish.
After toppling to seventh in the Premier League table at the end of the 2009/2010 season, Liverpool have been out of the race for Champions League honours ever since, and the club have struggled to challenge big spenders Manchester United, City and Chelsea for a spot in the top four in the years following.
But now, under Dalglish and director of football Damien Comolli's leadership, the club appear closer than ever to getting back into the top four, and the mood is bright at Merseyside.
IBTimes UK looks at some of the most memorable moments for Liverpool in 2011, from Luis Suarez's arrival to the emergence of Lucas Leiva.
1. The one and only Kenny Dalglish
It's a strange phenomenon that has taken over Liverpool this year, and while he is yet to achieve anything noteworthy in his latest tenure as manager, Dalglish has completely changed the mood in the Reds camp from dire to confidently optimistic. It seems every Liverpool player has pledged their absolute loyalty to the former Reds star, who managed the club in 1985-1991 before moving on to spells at Blackburn, Newcastle and Celtic. The side took their time in appointing Dalglish as permanent manager after he headed to Anfield at the end of January to replace Roy Hodgson, but it always appeared a foregone conclusion that the Glaswegian would remain for the near future at least. And though the club have suffered from a few bumps in the road, and are outside the top four right now, the season is long from over yet and Dalglish has another transfer window to put his mark on the squad.
2. A January 31st that will always be remembered
Deadline day rolled around, and as per usual, Liverpool were being connected with every player available for trading. But no one could have expected that Dalglish would make such bold moves so early on in his new job as manager. Within one day, £50 million had come into the club, Fernando Torres was gone to Premier League rivals Chelsea, and Uruguayan international Luis Suarez and Newcastle upstart Andy Carroll were walking through the doors at Anfield for a combined £56.6 million. Dalglish's intention was made clear to Reds fans; that if a player wanted to leave, no matter how big they are, they will go, and that he is not afraid to spend large amounts of money on players who can push the side into the top four.
3. Here come the Uruguayans
This year Dalglish has made two big investments in Uruguayan players - Luis Suarez and Sebastian Coates, who have both featured for their national side, have both made the move to Merseyside for big fees. But the manager and Comolli haven't stopped there, with the pair also signing a formal agreement with South American outfit Nacional to have first option on the club's young stars. Comolli revealed that the club are forming a strong connection with South American players, telling reporters: "We already have a strong link with South America through Lucas [Leiva], Maxi [Rodriguez] and Luis [Suarez]. Since it's been such a success with Luis - and I'm sure it will be for Sebastian [Coates] - why don't we try to make it an even bigger success by bringing in other players from Nacional?"
4. Hodgson's exit
Hodgson was receiving a particularly frosty reception from Liverpool fans as his exit looked more and more likely at the turn of 2010-2011. And while the club's fans felt saved by Dalglish's return to the managerial post, Hodgson expressed his hurt and anger at being sacked after just six months in charge and without the opportunity to put any mark onto the side. Hodgson's tempestuous relationship with Liverpool fans was widely blamed for the Englishman's sacking. He was the shortest serving manager in the club's history, and is now at West Bromich Albion, and whenever the two clubs meet there is always extra tension in the air.
5. Suarez/Evra racism row
It was a big moment this year for both Manchester United and Liverpool fans, when Patrice Evra lodged a complaint against Luis Suarez for using racially abusive language. The FA took around two months to find Suarez guilty of the accusation, and tensions are still particularly high over whether the eight game ban is justified for what happened, or warranted at all. Liverpool released an emotional statement over the issue, with the players also showing their backing for the star by wearing matching t-shirts and also releasing a separate statement. Now the clubs are waiting on the FA to release their reasoning for the judgement, but the Reds' relationship with the English footballing body hasn't been helped by Suarez being banned for another game for using an obscene gesture against Fulham at the beginning of December.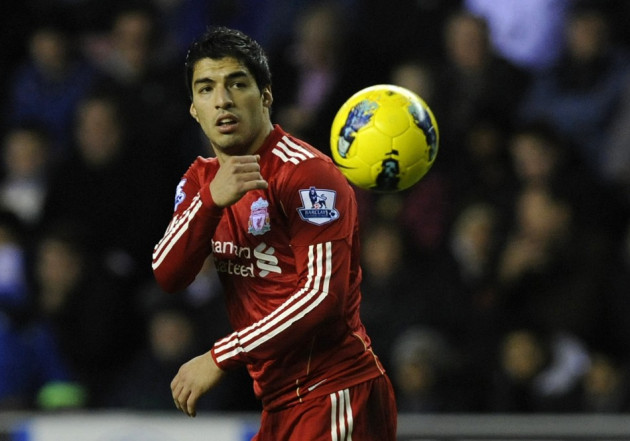 6. Defeating Chelsea twice in a week
Liverpool might still be outside the top four in the Premier League table, but the side are still showing those currently in contention for a Champions League spot that they are tough challengers to beat. On November 20 the Reds took on the Blues at Stamford Bridge, and though they went into the game as underdogs, Glen Johnson was able to steal a goal in the 87th minute to defeat the 2010 title holders 2-1. Just nine days later, Liverpool were at it again in London, hoping to defeat Chelsea in the Carling Cup and move a step closer to breaking their trophyless spell. Goals from Maxi and Martin Kelly sealed a 2-0 win, and Merseyside fans started to feel like the side might finally be moving closer to their old glory days again.
7. The perfect birthday for Kenny Dalglish
As Liverpool took to the Anfield pitch on March 6 against title leaders United, the Reds knew that while they couldn't challenge for a trophy that season, they could make it a touch harder for their bitter rivals to win one. And as Kenny Dalglish celebrated his birthday and awaited news on whether he had the managerial job at Merseyside permanently, the squad did just that. A hat-trick from Dirk Kuyt was only the beginning of Liverpool's dominance over United, with Luis Suarez the hero of the match for providing Kuyt with the ball on many occasions. Suarez was still relatively new to the club, but his stunning assist in the 34th minute goal left Reds fans in awe of the £22 million striker, and with a special place in their hearts forever.
8. Owners spend big on rebuilding Liverpool
Liverpool have outlayed around £100 million on new players over the year, and while they have taken in £50 million from the sale of Fernando Torres, the figure is still massive for a club that is planning to be profitable under new owners Fenway Sports Group. Dalglish himself has come out in public support of the Americans, who also own the Boston Red Sox. The likes of Jordan Henderson, Charlie Adam, Craig Bellamy, Stuart Downing and the massive Suarez/Carroll double in January were made possible by the club being able to get their debts under control and spend big under the new owners. UEFA advisor William Gaillard admitted in March that under previous owners Hicks and Gillette, the club nearly went under, telling reporters: "The club has now been rescued and thank God because it has tremendous heritage - but it was a close call." Liverpool have come a long way since the days of huge debt, and this year was proof of a much healthier, more viable club.
9. Getting through to the Carling Cup semi final
Maybe not such a big deal on first inspection, but Liverpool are desperate to start winning trophies again, and after the lift that Manchester City had by winning the FA Cup last season, the Reds have a good chance of doing just that in the Carling Cup. The side will have to take on City, but with the game taking place on January 11th, and the Citizens suffering from a busy schedule at the start of the month, the Reds have a good chance of getting through to a final at Wembley against either Cardiff or Crystal Palace. Liverpool breezed through the earlier rounds this year, defeating Exeter 3-1, followed by Brighton 2-1 and Stoke 2-1. Their win against Chelsea in December sealed their place in the semi final, which will no doubt be a fiery encounter.
10. The emergence and loss of Lucas Leiva
As the year wore on for Liverpool, Leiva became one of the club's unsung heroes, boasting the best tackle rate in the Premier League before the becoming injured at the beginning of December. Interest from outside clubs were snuffed out by Dalglish getting the Brazil international to sign a long term contract with Liverpool in March, and he has often been compared to Xavi for his tough tackling style. With Steven Gerrard out for the majority of the season, Leiva was able to pick up some of the slack left by the skipper's absence, and when he was ruled out for the rest of the season with a cruciate ligament injury, the news was almost a bigger blow to Liverpool than losing Suarez for up to nine matches will be.