Liverpool Star Luis Diaz 'Looks Really Happy' After Kidnapped Father's Release In Colombia
Luis Diaz started for Liverpool in the Europa League on Thursday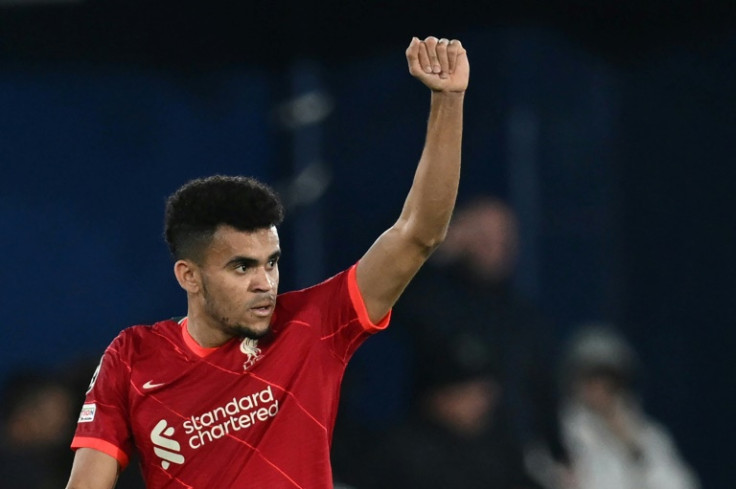 Liverpool boss Jurgen Klopp on Thursday opened up on how happy forward Luis Diaz was after his kidnapped father had been released.
Diaz travelled with Liverpool's squad for their Europa League fixture in Toulouse despite struggling off the field amid the kidnapping of his parents. Some armed men on motorcycles abducted Diaz's parents on Oct. 28 when the couple was at a gas station in their home town of Barrancas in Colombia's northern La Guajira state, which borders Venezuela.
A few hours later, Colombian police rescued Diaz's mother, Cilenis Marulanda, but his father, Luis Manuel Diaz, who was kidnapped by left-wing rebels of the National Liberation Army (ELN), remained missing for 13 days.
Klopp's statement
"It looks like Lucho [Díaz] is really happy, [giving] thumbs up all the time. It looks very, very good. Timing-wise it couldn't have been better," said Klopp before his side suffered a controversial 3-2 loss in southern France.
A statement from Liverpool read: "We are delighted by the news of LuisFDiaz19's father's safe return and we thank all those involved in securing his release."
Diaz Sr. was handed over to United Nations and Catholic church officials by members of the ELN. He reportedly travelled by military helicopter to the city of Valledupar, where he was expected to undergo a medical examination before being returned to his family.
Celebrations in Luis Diaz's hometown
Local media in Colombia also stated that Diaz's father was in a good state of health, with no signs of mistreatment. On his release, there were emotional scenes in the neighbourhood where the couple lived, with family members taking to their cars to drive through the streets in celebration. Most of the people were dressed in Liverpool team shirts with Diaz's name and bearing the number 23, the player's previous shirt number.
The Colombian Football Federation also issued a statement thanking all those who helped in rescuing Diaz's father, including the government, the military and the police. It added: "Football is passion in peace. Let no one ever think of attacking that reality again."
When the kidnapping occurred, police in Colombia originally said that a criminal gang was most likely to blame. But a government delegation - which is currently engaged in peace talks with the rebel group - later said that it had "official knowledge" that the kidnapping had been carried out by "a unit belonging to the ELN".
Luis Diaz starts for Liverpool
The Reds won their opening three Group E games in the Europa League and needed a win to qualify for the knockout stages. They may have hoped to secure the qualification in Toulouse, with Diaz also featuring in their starting XI. However, Liverpool first went 2-0 down before going 3-1 behind the French club. Liverpool's Portuguese forward Diogo Jota then found the back of the net in the 89th minute to narrow the deficit at 3-2, setting up a grand finish at Stadium de Toulouse.
Liverpool's 20-year-old defender Jarell Quansah netted what looked like a legal equaliser in the seventh additional minute. The Anfield side, however, was denied the goal after a lengthy and puzzling VAR check because of a potential handball against Alexis Mac Allister in the buildup. The match referee viewed the incident on the pitchside monitor before officially withdrawing the goal, leaving the touring side frustrated.
The Reds boss expressed his displeasure at the post-match conference, saying he did not feel it was a handball.
"For me, it's not a handball, but how can I decide that? The ball goes to the chest and then I don't see a contact with the arm, to be honest. Maybe they had a different picture than I had. It was pretty long ago before we scored the goal and I thought, 'Where is the free-kick?' I didn't see it properly but I heard there could have been a penalty for us in another situation, I don't know," added Klopp.
Liverpool are set to host Brentford at Anfield in the Premier League on Saturday, their final fixture before this month's international break.
© Copyright IBTimes 2023. All rights reserved.