Luis Diaz Rescues Liverpool With Late Equalizer Vs Luton Amid Trauma Over Missing Father [Video]
Luis Diaz's father has been kidnapped by left-wing rebels of the National Liberation Army (ELN)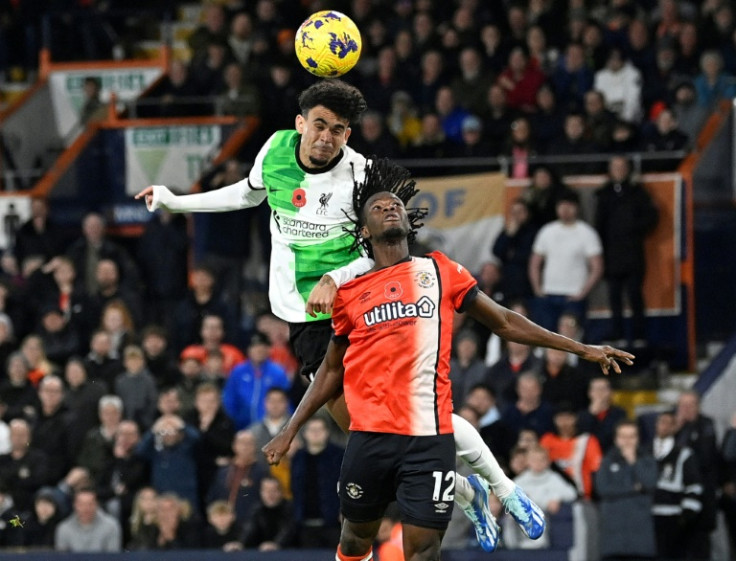 An emotional Luis Diaz rescued Liverpool FC on Sunday with a late equaliser against Luton FC despite going through a family crisis.
Despite the fact that Diaz's father is still missing after being kidnapped in Colombia, he still decided to be a part of Liverpool's travelling squad. When the Reds were close to losing to Luton FC, a club competing in the Premier League for the first time, Diaz came off the bench to score a stoppage-time equaliser.
Watch Luis Diaz's goal
Luton's substitute Tahith Chong led defender Issa Kabore's cross into a superb counter-attack before putting it behind Liverpool goalkeeper Alisson Becker, breaking massive celebrations at Kenilworth Road. The home side scored the goal with 10 minutes remaining of the regular 90 minutes and looked well on the road to their first league win of the season at Kenilworth Road and a first victory over the Reds since 1991.
Diaz, who did not feature in Liverpool's last two games since his parents' kidnapping from their home town in La Guajira, headed in a Harvey Elliot cross in the 95th minute. The Portuguese forward then lifted his shirt to show a message of "freedom for papa".
Luis Diaz's message for his father's kidnappers
The former Porto striker then later released a message for those holding his father, begging them to free him immediately and "end this painful wait".
"Every second, every minute our anxiety grows. My mother, my brothers and I are desperate, anxious and have no words to describe what we are feeling. This suffering will only end when we have him home with us," Díaz said in a statement released shortly after the match in the Premier League.
"I beg that they free him immediately, respecting his integrity and ending this painful wait. In the name of love and compassion we ask they reconsider their actions and allow us to have him back," added Diaz.
Liverpool are with Diaz, says Alisson Becker
Liverpool goalkeeper Becker praised Diaz after the match, saying the way he played "says a lot about his character, about his inner strength". Becker went on to add that it is difficult for people to imagine what Diaz is going through but Liverpool are supporting him in every way possible before adding "football is bringing a slice of joy to Lucho [Diaz] at this time".
"We are together with him for whatever he needs, to take his time. He came, trained, came to the game, scored a fantastic goal for us that was really important. We are with him 100 per cent," the Brazilian goalkeeper added.
Liverpool boss Jurgen Klopp, meanwhile, called Diaz's goal a "wonderful, emotional and fantastic" moment, but reminded everyone that the player's tough situation remains the same.
During the post-match conference, when Klopp was asked what he said to Diaz after the match, the German boss replied there were no words necessary as they just hugged each other.
"We know how he is – OK but desperately waiting for the right news. That's all. We had moments like this in the past. The real information we need is a different information. That's it. But anyway, it's a really, really positive thing for him. But all the other problems stay the same," added Klopp.
Diaz has scored four goals and recorded an assist in 12 appearances for Liverpool across competitions this campaign.
Liverpool's 1-1 draw against Luton saw the Reds drop points after winning four games in a row in all competitions. They are currently third in the 2023-24 Premier League table with 24 points from 11 matches, three points behind table-toppers Manchester City.
The Colombian government earlier confirmed that Diaz's father Luis Manuel Diaz was kidnapped by left-wing rebels of the National Liberation Army (ELN). Diaz's parents were abducted at gunpoint on Saturday (Oct. 28), with the CCTV footage showing their car being followed by men on motorcycles on Saturday afternoon. The incident happened when Diaz's parents were at a gas station in Barrancas, a region in Colombia's northern La Guajira state.
While Diaz's mother Cilenis Marulanda was soon rescued by Colombian police, the player's father still remains missing.
© Copyright IBTimes 2023. All rights reserved.