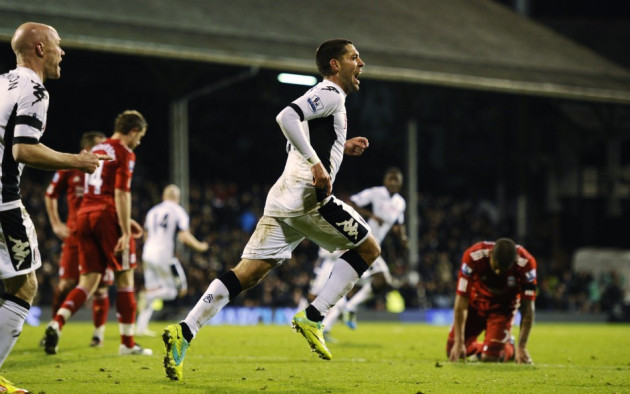 Dirk Kuyt revealed Liverpool's deep frustration at the 1-0 loss to Fulham but reiterated his belief that the Reds can still qualify for the Champions League.
Clint Dempsey's late winner secured a hard-fought victory for the home side after Jay Spearing's dismissal reduced the Reds to 10-men in the 71st minute.
The result leaves Liverpool five points off fourth-place but Kuyt remains confident they will be in contention at the end of the season.
"It's a huge disappointment but we need to keep going, look at ourselves and try to improve," the Dutchman told Liverpool's official Web site.
"We definitely want to challenge for the top four and if we want to do that we need to win these type of games.
"I thought we were unlucky because we had the chances to score."
Liverpool were punished for some lacklustre finishing when Dempsey pounced on Pepe Reina's mistake to fire home from two yards.
Earlier, Jordan Henderson and Stewart Downing had hit the woodwork and Luis Suarez had a goal ruled out for offside as Liverpool failed to seize the initiative in an entertaining encounter.
"We did okay in the first half but the way we came out in the second half was much better," Kuyt added.
"It was frustrating not to have any luck. When you look at the decision for Luis's goal that was ruled out - it's difficult for us to see as players in a split second and know whether it was offside or not."
The game turned on Spearing's dismissal for a robust challenge on Moussa Dembele. The Liverpool midfielder was unlucky to be handed a straight red after he played the ball before following through on Dembele.
"I didn't see Jay's challenge and I don't know if it was a red card. Obviously it didn't help us in our efforts to win the game. It's a huge disappointment not to get the three points," said Kuyt.
"Then you look at the foul on Charlie. Was it inside the area or not? We just didn't have the luck on our side and it was a frustrating night for us."