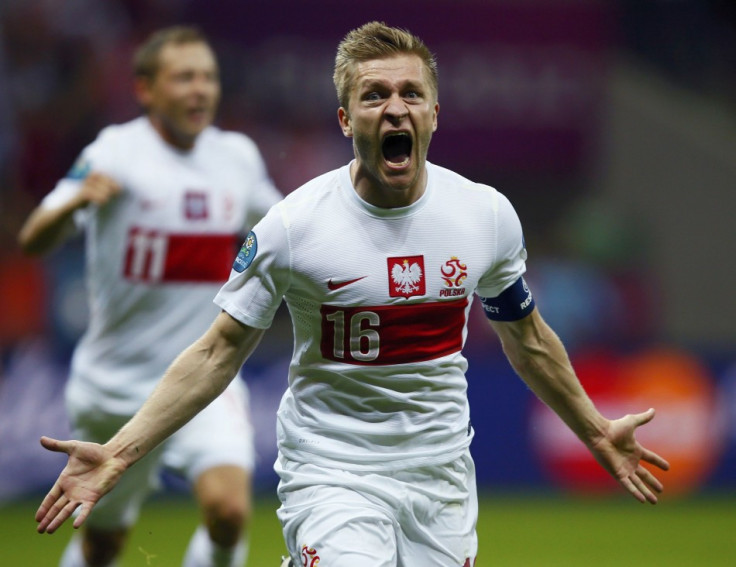 Liverpool have contacted Borussia Dortmund to enquire about the availability of Poland captain Jakub Blaszczykowski, according to the player's agent.
The midfielder impressed for the co-hosts at Euro 2012 and also scored one of the goals of the tournament against Russia to earn his team a point. His uncle and agent Jerzy Brzeczek has now stated on the player's official website that Liverpool, Inter Milan and Lazio have confirmed their interest in the 26-year-old but also added that a decision on his future will be taken only after holding talks with Dortmund.
"Jakub has a contract with Borussia and is happy at the club, so he will not make any rash decisions. All important discussions regarding his future we conduct with Borussia," Goal.com quoted the statement.
Blaszczykowski, known as Kuba, made 40 appearances for the Bundesliga champions last season, notching up seven goals and 11 assists. His current contract with Dortmund runs till the summer of 2013 and the player dismissed reports that he has signed an extension, saying he is yet to make a call on his future.
"It's not true that I have already signed a contract. My current deal with Dortmund still runs [for another season] and I'm focusing on BVB. There's no reason to talk about a contract at this point," the Polish skipper stressed.
Liverpool boss Brendan Rodgers had stated on Monday that the club were close to completing a signing and also hinted that a deal for a "real exciting" player could be announced later this week.
"We don't have a wheelbarrow load of money, there is not the money flying about people think there is. There certainly won't be as many [signings] as is being labelled out there. There have been a whole raft of players being linked and only a few are real targets for us. The reality is we have made only three or four inquiries about players and hopefully can close out one deal this week which will be a real exciting one for the club, one the supporters will absolutely love," the Guardian quoted the Northern Irishman as saying.
Blaszczykowski spent five seasons at Dortmund, making 167 appearances for the club in all competitions, after arriving from Wisla Krakow in 2007.