Liverpool boss Brendan Rodgers is confident the club will enjoy a fruitful summer transfer window with scouts having been working for several months on potential targets.
After joining Liverpool mid-way through last summer, Rodgers endured a torrid transfer window last year, missing out on signing Clint Dempsey among others, while allowing Dirk Kuyt to leave for Fenerbahce and Andy Carroll to join West Ham United on loan for the season.
As a result, Liverpool's unbalanced squad began the season in uncertain fashion but with plans already in place for the summer window, Rodgers is hopeful his side can push on next season.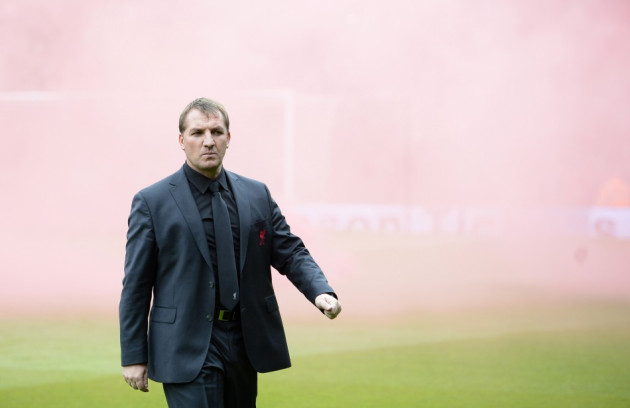 "The scouts are doing a terrific job in their diligence and their work," Rodgers said at his pre-match press conference on Friday afternoon.
"They're leaving no stone unturned in terms of the work they are carrying out in order to get us the players we need to improve.
"That process started just after the window - once we got the staff in we needed, they got to work straight away and we saw the benefits of that over the course of January. Hopefully we can have a similar window, a real positive one, in the summer.
"It's a different club - there's a lot more cohesion within all departments of the club. There was a big change going on across the board here last season in terms of managerial changes, coaching changes, administration and recruitment.
"There was a lot going on - lots of players going out, some coming in. The word stability is key for us now - it really sets us up for the summer to hopefully have a good window.
"We really have to make sure we're getting the right types of players in and if we can do that, I believe that we can kick on again. As a start point, it's much better.
"There are no bids in for anyone yet. There's a lot of work going on off the field, our staff and people at the club are doing a brilliant job in identifying the types of profile that we want to bring in.
"There'll be a natural transition in the summer because we need to improve our depth. The squad was very shallow throughout the season and we know we need to improve that. That will happen.
"Like any club, you want to do your business as early as you possibly can. We'll look to reinforce over the summer months - come the beginning of the season, we would hope we have a squad ready to challenge."
Liverpool will finish seventh in the Premier League this season with 10 points separating them from eighth place West Bromwich Albion, and five from sixth place Everton going into the final game of the season against relegated Queens Park Rangers.
Rodgers has enjoyed a decent start to life at Anfield, with the second half of the campaign proving most fruitful following the signing of Daniel Sturridge and Philippe Coutinho.
While the controversy involving Luis Suarez sought to overshadow part of the season, Liverpool have survived without the Uruguayan, with Sturridge particularly flourishing, with a recent hat-trick in the win over Fulham highlighting the speed in which he has settled in.