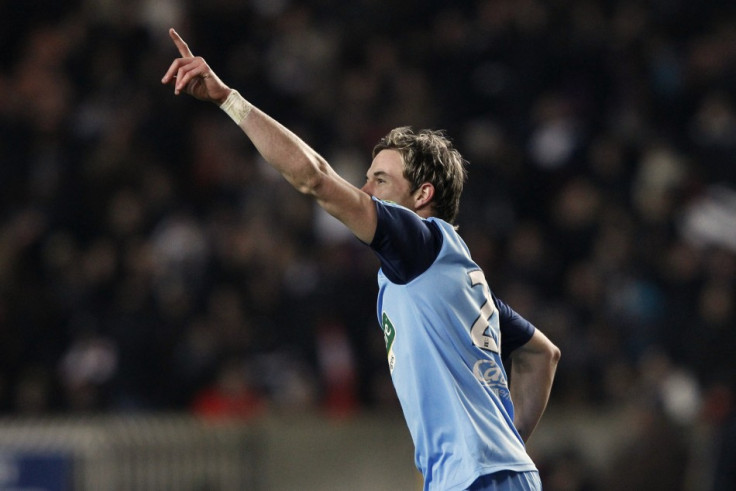 Liverpool target Nolan Roux has agreed to sign a four and a half year deal for Lille, with Brest president Michel Guyot confirming as much to French media.
Roux has starred for Brest since moving to the club in 2009 from Lens, and has so far scored 21 goals in 66 appearances for the Ligue 1 side.
Liverpool were said by multiple sources to be chasing Roux, particularly in the summer, and with the club currently facing a problem with their misfiring forward line, the 23 year old is still said to be on Kenny Dalglish's radar.
But Lille were able to steal the march on Liverpool and sign the hitman, though when the side take on Brest they won't be able to have their new signing on board.
"I would like to thank Nolan," Guyout said as the star prepares to move across the country.
"He played a major role in the attainment of a league. We wish him well, but we will put a little clause to prevent him from playing against us in April.
"I would also like to thank Michel Seydoux how the discussions conducted in secrecy."
Roux was the subject of a great deal of transfer talk last summer, with Liverpool very closely linked to the Frenchman. And Roux said that he is glad to put talk over his future to rest, telling reporters: "I learned my transfer to Lille this morning at the end of training.
"I did not want to have the same questions as this summer. I lived unforgettable moments here."
The contract is said to be worth around €8 million, which was set in Nolan's original contract as his release clause.
Liverpool will be on the lookout for a striker this month, with Andy Carroll continuing to struggle for form and Luis Suarez out of action on account of his FA sanctioned ban.
The French market is seen by some Premier League managers, including Alan Pardew and Arsene Wenger, as one which can provide good value for top performing players. And Liverpool have been linked with a range of players throughout the country, and Europe, as they continue their search for support up front.
Youngsters are also high on Kenny Dalglish's wishlist for January, with signings of Jordan Ibe and Seyi Ojo being confirmed by the club so far, and numerous young players from around the globe undertaking trials at Merseyside.
In particular, Liverpool are said to be close to signing Ghanian midfielder Mumuni Abubakar, with the 18 year old telling reporters after his month-long trial: "Hopefully Liverpool will sign me."
Despite missing out on Roux, it looks set to be a busy month for the club, who are currently seventh in the Premier League table and desperately pushing for Champions League qualification.
Help Hillsborough victim Kevin Williams' family's fight for justice by signing the following petition: http://epetitions.direct.gov.uk/petitions/19149