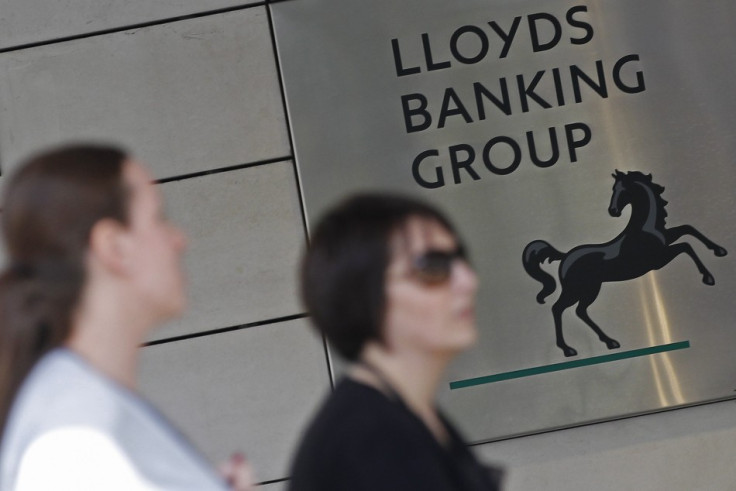 Shares in Lloyds Banking Group were up on the FTSE 100 in morning trading after the group announced details of its business review.
The part-nationalised bank said it is aiming to cut 15,000 jobs and would be investing in new IT systems at a cost of around £2.3 billion.
The group also said it is hoping to reduce its loan-to-deposit ratio to 130 per cent and to attain a return on equity target of between 12.5 per cent and 14.5 per cent.
António Horta-Osório, Chief Executive of Lloyds Banking Group, said, "Our aim is to become the best bank for customers. We have around 30 million customers, iconic brands, including Lloyds TSB, Halifax, Bank of Scotland and Scottish Widows, and high-quality, committed people. We will unlock the potential in this franchise over time by creating a simpler, more agile and responsive organisation, and by making substantial investments in better-value products and services for our customers, to deliver strong, stable and sustainable returns for our shareholders."
Keith Bowman, Equity Analyst at Hargreaves Lansdown Stockbrokers, commented:
"The focus on cost savings comes as no surprise. Headcount appears to be bearing the brunt, with the new CEO having already demonstrated his ability to execute savings at Santander. Furthermore, savings are to be reinvested, with the business of savings as opposed to lending enjoying a significant emphasis via its Bancassurance and Wealth Management operations.
"On the downside, significant uncertainties continue to overhang the broader industry, including the eventual fallout from the EU crisis, continued debate over appropriate regulation and the exact pace of hoped for global economic recovery. Specifically to Lloyds, its dependency on the UK is being increased, there is still no dividend payment, whilst the government's eventual stake exit continues to cast shadows.
"Nonetheless, for today, group specific uncertainty has been reduced. The bank's strategy has been outlined, with a number of stretching targets detailed. In all, while the road ahead remains arduous for both Lloyds and the wider industry, the carrot of a more efficient bank is being dangled, with the recent souring of market consensus opinion from buy to strong hold, potentially being reversed."
By 09:00 shares in Lloyds Banking Group were up 6.45 per cent on the FTSE 100 to 47.54 pence per share.