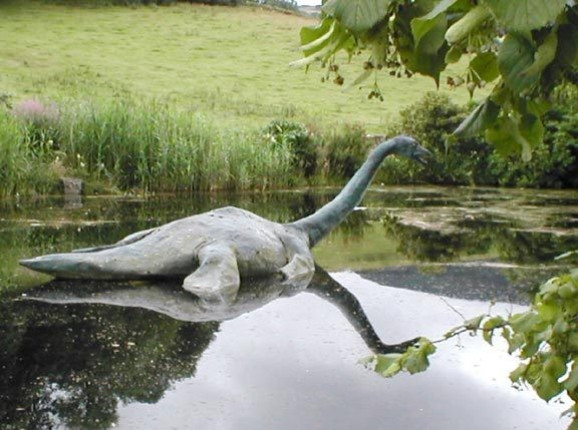 On the 80th anniversary of the first modern sighting of the Loch Ness Monster, a scientist is undertaking new research to uncover the truth behind the strange phenomenon.
While driving past the loch on 14 April 1933, Mrs Aldie Mackay, the manageress of the Drumnadrochit hotel, said she spotted a "whale-like fish" in the still, deep waters of Loch Ness in Scotland.
Her experience was recorded in an interview with marine biologist and founder of The Loch Ness Project, Adrian Shine.
"She said it was black, wet, with the water rolling off it," he says.
"It went in a circle, round and down. She yelled at her husband 'Stop! The beast!'"
There were claims that as a hotel manageress, Mrs Mackay had a business to promote. But Shine denies this.
"She was far from a self-publicist. It was her husband who told the water bailiff, and she stayed anonymous in the newspaper report," Shine told the BBC.
"She didn't say anything for two reasons. Firstly, because she thought she would be seen as self-advertising.
"But also because they used to say for people who had seen something in the loch, 'Take more water with it'... suggesting they were drunks."
Dr Paxton, a research fellow at St Andrews University, will analyse all reported sightings for consistency or patterns that could be explained by natural phenomena.
There have been more than 1,000 recorded sightings of "Nessie", an elusive serpent-like monster, and Dr Paxton has so far sifted through over 800 of these cases.
"I suppose it is possible that people have an agenda," admits Dr Paxton, who will publish the results of his study later this year.
"But I stress that I believe the vast majority of people are reporting the truth. They believe they have seen something strange.
"Now there might be a lot of people who are mistaken, but I think they are sincere.
"I am carrying out a statistical analysis of Loch Ness monster accounts since 1933, specifically looking for clusters in terms of what is reported," he told the BBC.
"In some cases there are multiple witnesses, or witnesses giving multiple accounts of the same event, which allow us to test eyewitness consistency.
"These cases are very interesting because they allow us to consider whether certain witnesses have a tendency to see Nessie more than might be expected by chance alone."
One of the most impressive sightings of Nessie was photographed by a British surgeon, Colonel Robert Wilson. The image of a snake-like head and body apparently swimming in the loch's waters caused much excitement.
Disappointingly, it was later discovered to be a toy submarine attached to a sea-serpent's head.
On Sunday 14 April, the day of the 80th anniversary of the first modern sighting, a boat sailed on the waters of Loch Ness.
On board were Dr Paxton, Mr Shine, a number of other monster hunters, Loch Ness experts, and Scottish tourism representatives. Unfortunately, Nessie, a shy and retiring creature, didn't make an appearance.
"Not this time," admitted Shine on coming back from the trip. However, he said that a possible explanation for the sightings "could be the Atlantic sturgeon, a primitive reptilian fish. Nature's a complex thing."
According to Visit Scotland, Nessie tourism brings in more than £1million to the area per year.
But could a monster reside in the 230-metre depths of Scotland's second longest loch?
In 1987, during Operation Deepscan, which used echo-sounding equipment in the depths of Loch Ness, BBC News reported that scientists had made sonar contact with a large, unidentified object of unusual size and strength at a depth of 600 feet (180 metres).
Darrell Lowrance, a sonar expert said: "There's something here that we don't understand, and there's something here that's larger than a fish, maybe some species that hasn't been detected before. I don't know."