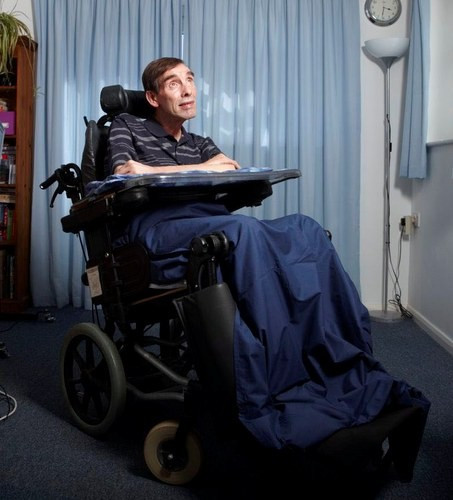 Tony Nicklinson, who has been suffering from locked-in syndrome since 2005, will begin his landmark appeal to the high court to allow a doctor to lawfully end his life.
Nicklinson, 58, has been almost completely paralysed since he suffered a stroke on a business trip to Athens in 2005.
While his mind remains active, he is unable to move and can only communicate through a specially adapted computer that monitors his eye movements.
The father of two from Melksham, Wiltshire, wants a doctor to lawfully end his life, which he describes as "a living nightmare", and is seeking a change in the law on assisted suicide.
Due to his condition, Nicklinson is unable to take his own life and will ask the court to allow a doctor to help him by giving him a fatal dose of painkillers.
The laws states that while doctors may decide not to prolong a life by continuing treatment, they cannot take steps to end life.
Nicklinson has said he would consider starving himself to death if the court does not allow him to have a "pain-free death".
He received the go-ahead for the case to proceed in March, after Judge Justice Charles rejected a Ministry of Justice move to have the case struck out.
In a statement expected to be read in court, Nicklinson explained: "I can't tell you how significant it would be in my life, or how much peace of mind I would have, just knowing that I can determine my own life instead of the state telling me what to do - staying alive regardless of my wishes or how much suffering I have to tolerate until I die of natural causes."
The case is expected to last four days and will hear testimony from his wife, Jane, and daughters Lauren, 24, and Beth, 22. A ruling will not be made until a later date.
Speaking to the BBC, Nicklinson described how desperate he was for the court to allow his appeal to go through.
He said: "I have locked-in syndrome and it makes my life a living nightmare.
"I cannot speak and I am also paralysed below the neck, which means I need someone to do everything for me.
"It cannot be acceptable in 21st century Britain that I am denied the right to take my own life just because I am physically handicapped.
"Assisted dying is a controversial issue, which aims to help people to die who are physically unable to take their own life, or who can take their own life but want help to do so."