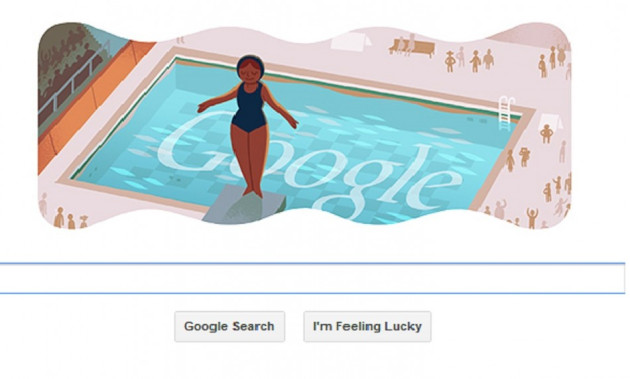 Google has come up with a new doodle to mark the third day of the London Olympics with a graphic image of a female diver ready to take the plunge from a diving board. The pool is painted with the Google logo at the bottom.
The diving events of the London Olympics 2012 are scheduled for 13 days from 29 July to 11 August.
There are four events each for men and women in the category - men's 3m springboard, 10m platform, synchronised 3m springboard, synchronised 10m platform and women's 3m springboard, 10m platform, synchronised 3m springboard and synchronised 10m platform. At the London Olympics, 136 participants are aiming for medals in diving.
Diving made an entry into the official programme of Olympic events with the 1904 Olympic Games at St Louis, United States. Women's diving was introduced in 1912, but synchronised diving found its way to the official programmes through the Sydney Olympics in 2000.
Athletes dive from heights of up to 10m above the water level and the event is known for the divers' acrobatic performances. They often perform somersaults and twists in the air before plunging into the water which gave it the name "fancy diving".
The venue for the London 2012 diving events is the Aquatics Centre at the Olympic Park which is designed by internationally aclaimed architect Zaha Hadid. The centre has a capacity of 17,500 and has other features such as a 50m competition pool, a 25m diving pool and a 50m warm-up pool apart from dry area facilities.
Google has a tradition of coming up with new doodles during the Olympics to celebrate the biggest sporting event in the world.
Google celebrated archery on the second day of the Olympics with a doodle of a female archer aiming at a target, the third alphabet of its logo.
The tech giant's doodle on the day of London 2012 Olympics opening ceremony featured five athletes representing five sporting events holding each alphabet of its logo.