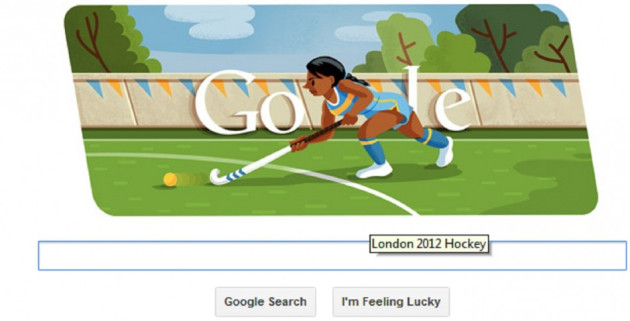 Google doodle on the fifth day of the London Olympics focuses on the hockey events which are scheduled to take place from 29 July to 11 August. It is the sixth Olympic doodle from the tech giant since the start of the London Games.
The graphic image in Google's home page shows a female hockey player running with a ball in a green pitch. Google logo is placed on the boundary with the third and fourth alphabets hidden behind the player.
However, the Riverbank Arena of the Olympic park where all the Olympic matches are scheduled to take place is a blue synthetic-turf pitch. The blue hockey pitch is a first in the history of the Olympic Games. The area surrounding the pitch is painted pink.
The Riverbank venue has two pitches, one with spectator seating and the other to use as a warm-up area.
It is the first doodle dedicated to hockey in the ongoing London Olympics. Google's earlier hockey -related doodles included three ice hockey doodles during the Winter Olympic Games- Salt Lake City Olympics 2002, the 2006 Torino Olympic Games and the Vancouver Olympic Games 2010.
Hockey matches made its debut in to the Olympics with the men's game at the 1908 Olympics. Women's competition was introduced for the first time at the Moscow 1980 Games.
At the London Olympics, 12 men's and 12 women's teams are participating with a total of 192 players in each team. There are 16 athletes in a hockey team (11 players and five substitutes). Participation is limited to one men's and one women's team to each country.
At the match held on 31 July, Britain's women's team beat their South Korean counterpart with a 5-3 lead.
Google began its tradition of Olympic doodles with the 2000 Sidney Olympics.