British track and field athlete Mo Farah has become the first Briton to win an Olympic gold medal in the men's 10,000m.
Farah, the world 5,000m champion, put in an excellent performance to finish the race in 27 minutes and 30.42 seconds. USA's Galen Rupp and Ethiopia's Tariku Bekele won silver and bronze, respectively, while Kenenisa Bekele (Tariku's brother), who won gold in the 5,000m and 10,000m events at the Beijing 2008 Games, finished just outside the medal positions in fourth.
Early in the race, the pace was set by Eritreans Zersenay Tadese and Nguse Tesfaldet, along with Kenyans Moses Masai and Bedan Karoki Muchiri. Farah, however, kept his composure and conserved energy while staying in touch with the leaders. Finally, with five laps to go, Farah made the first of his moves, sneaking into third behind Masai and Tariku Bekele. Three laps later he was second but there was still last-minute drama. Ethiopian runner Gebregziabher Gebremariam came out of nowhere to take the lead and Farah could have been excused for losing focus. The Briton, however, displayed nerves of steel and great reserves of energy, launching into a sprint with 500m remaining to take a historic, memorable gold.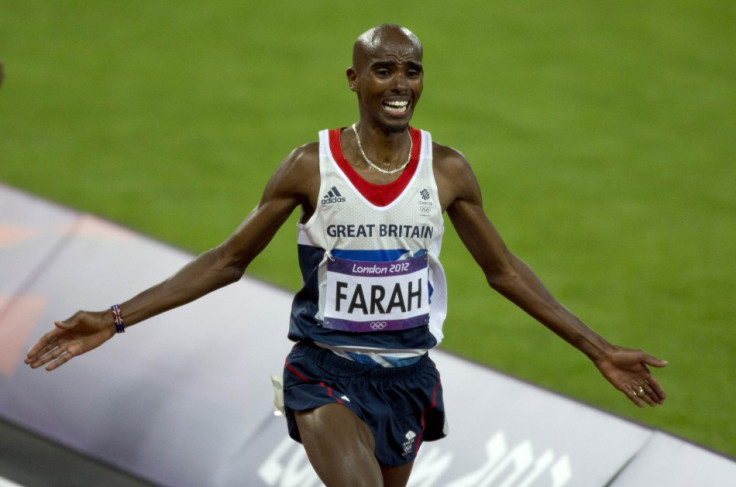 It was a sweet moment for the 29-year-old, who failed to qualify for the 5,000m final in Beijing four years ago. He vowed back then that he would give it everything for this race and that was exactly what happened; he was cheered on to a famous victory by a crowd of 80,000, whom he then thanked profusely.
"I just can't believe it, the crowd got so much behind me and was getting louder and louder. I've never experienced anything like this - it will never get any better than this, this is the best moment of my life," Farah told the BBC.
"It doesn't come round often, to have it right on the doorstep and the amount of people supporting you and shouting out your name."
The last Briton to win an Olympic medal in the 10,000m race was Mike McLeod, who won silver at the Los Angeles 1984 Games.