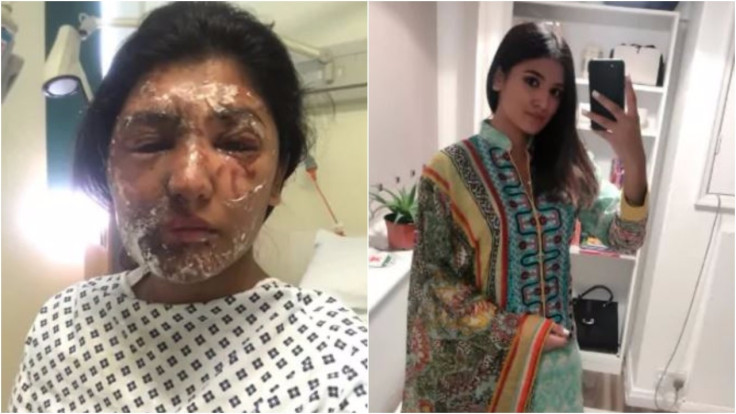 Aspiring model and London acid attack survivor, Resham Khan, has shared a picture of herself with no makeup on, in order to silence critics of her recovery.
Khan, who suffered the attack on her 21st birthday in June 2017, originally shared pictures after her recovery on the occasion of Eid al-Adha, which was celebrated on 2 September. She received a lot of love from all over the world, but there were some people who doubted her "miraculous" recovery.
The young Manchester model faced each and every question patiently. In her personal blog on 6 September, Khan addressed those queries and said: "I know many are watching my recovery or may be going through something similar, looking at themselves and wondering when they will improve.
"First of all I just wanted to make clear that what you see on the internet isn't real. Just like the photos." She said she loved the way people showered their love on her, but said that she did not want people to believe that something magical or miraculous has happened to her. The young woman added that she did not want to give people false hope by "trying to achieve what I do using editing apps".
"The images you saw were the result of me finally deciding to try on a full face of makeup. Once I did a full face to the best of my ability, with an extra layer or two of foundation and a lot more concealer over the more raised and pink areas, I got changed and thought I'd push the boat out with something pretty," Khan said, explaining why she wore a traditional dress for the photo shoot.
She said her friends believe she looks prettier in Asian clothes. In her blog, the aspiring model has also explained the pain of applying makeup now with injuries and scars. She said that she used to enjoy applying makeup, but now she has to be extra careful with everything.
"It has become so much harder. It hurts a little to apply, and I found applying eye makeup a bit of a struggle so didn't do too much," Khan said.
Ending her blog on a very happy note, the 21-year-old said: "Makeup did a great job and so did angles and an edit. But please don't see my photos and go into despair or try to achieve something that may not be possible. It's hard. I've loved the compliments but the harsh reality is it is not real. It's been lovely, it's been great, but I can't keep pretend to be someone I'm not."
She added that she is continuing her medication and hopes to completely recover one day. She also advised other people suffering to take care of themselves and use combination of basic things, like moisturiser to keep their skin fresh and in good health.
Khan also shared an image of her face wearing no makeup.
The horrific attack in June had left Khan and her cousin, Jameel Muhktar, screaming in agony on the streets of Beckton as their skin burnt away. The accused, John Tomlin, was arrested on charges of grievous bodily harm with intent after he walked into an east London police station in July.