Aspiring model and London acid attack victim shares powerful photos of astonishing recovery
Resham Khan had been celebrating her 21st birthday when acid was thrown in her face.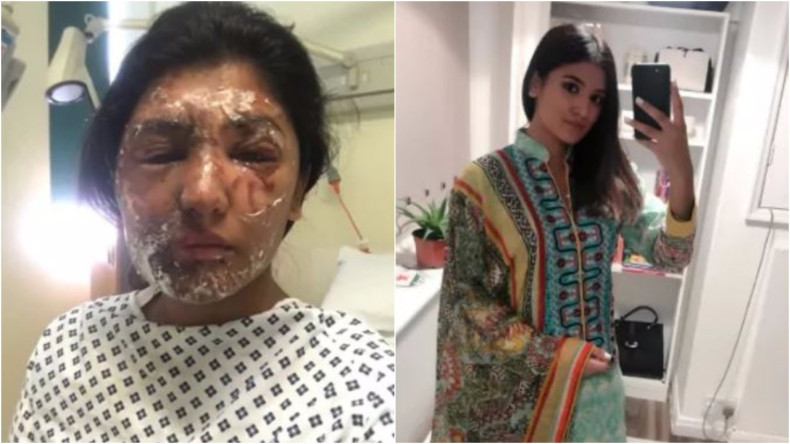 Resham Khan had no idea what scars would be left behind after acid was thrown in her face by a stranger in east London.
The horrific attack in June had left her and her cousin, Jameel Muhktar, screaming in agony on the streets of Beckton as their skin burnt away.
After bystanders doused the pair with buckets of water, they were taken to hospital to face a lengthy and painful recovery.
But some two months later, Khan appears to have enjoyed a remarkable turnaround.
Over the weekend, the aspiring model posted new photos of herself on Twitter showing no signs of facial injuries or scarring.
They lie in stark contrast to the photos she posted in the days after the attack, which showed her face covered in peeling and burnt skin.
Khan, who had plans to model for bridal, make up and hair artists, had written at the time: "I'm devastated. I keep wondering if my life will ever be the same. Acid attacks in the UK are unheard of for me.
"My 21st birthday. My glow up complete. Just got back to the country. And now I'll probably never look the same."
In her blog documenting her recovery, she also wrote how the attack had left her too afraid to even walk to her local shop.
She wrote in July: "Today I was too petrified to walk to my local shop. Too scared to face the world.
"Too scared of the looks I might get. Too scared to tackle the question 'how are you'. Just too scared. That's all I've been. Terrified and reluctant. My life on pause, frozen with fear."
But her subsequent posts and photos appear to show her confidence returning.
The attack on 21 June happened after Khan, a business management student in Manchester, had returned from an exchange year in Cyprus and was about to celebrate her 21st birthday.
She and 37-year-old Muhktar had stopped at traffic lights when acid was thrown into their vehicle.
Khan suffered damage to her left eye and required skin grafts having suffered burns on her arms, legs, face and shoulder.
Muhktar had to be placed in an induced coma after suffering burns across his body, including his arms, legs, back, neck and the right side of his face.
John Tomlin, 25, has been charged with grievous bodily harm with intent in connection with the attacks.
He is expected to stand trial on 27 November.