The ceiling collapse at London's Apollo Theatre may have been caused by years of "benign neglect", it has emerged.
Prior to Thursday's incident, which injured at least 79 people, Nica Burns, co-owner of Nimax, which owns and operates the Apollo, warned that the 112-year-old Shaftesbury Avenue playhouse had poorly maintained roofs.
Comments made by Nica to a Theatres Trust publication last spring reveal that Nimax's six central London theatres were particularly prone to water ingress, with one carved sculpture described as a "muse of destruction".
Up to 10 square metres of masonry and ornate plasterwork from the ceiling of the Grade II-listed theatre fell on the audience on Thursday evening during a performance of Mark Haddon's The Curious Incident of the Dog in the Night-Time.
Witnesses spoke of scenes of chaos and panic as parts of the roof began to crumble on spectators. Student Rae Oswald, who was seated on the balcony directly below the collapsed ceiling, said: "We could hear creaking in the ceiling. One of my teachers pointed up and we could see a big crack. It got really loud and kept getting louder."
The collapse came after reports of water dripping through cracks in the theatre's ceiling following heavy rain and thunder earlier in the day. According to weather forecasters, almost 15% of the average monthly rainfall for one area in December fell in just a single hour.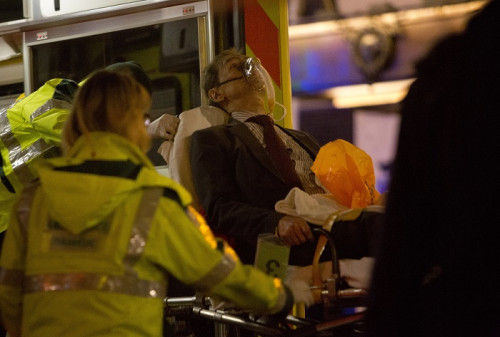 It also emerged that composer Andrew Lloyd Webber, who owned the Apollo between 2000 and 2005, recommended demolishing the Apollo Theatre more than 10 years ago because of the building's "shocking" condition.
Speaking to the Times in 2000, he said: "The Apollo in particular is a shocking place. I suggested that both it and the Lyric should be knocked down and replaced by top-quality modern theatres."
Lloyd Webber said his attempts at carrying out sweeping renovations at the theatre were blocked by English Heritage, which reportedly told him: "You can't touch that, it's got fantastic plasterwork by so-and-so."
A spokesman for Nimax said: "The last formal independent inspection of the Apollo Theatre ceiling was 16 September 2013, when its current safety certificate was issued. There have been no indications leading up to last night of any issues with the ceiling."