One Canadian woman and a French man have been named in the media as the victims of the brutal London Bridge and Borough Market terror attacks on 3 June, the third terror attack since March in the UK.
Chrissy Archibald from British Columbia was referred to by her family and friends as a "beautiful and loving" bride-to-be. She had reportedly moved to the UK to be with her fiancé. She had earlier worked to work in a shelter for the homeless.
According to French media reports, the Frenchman who died in the London attack was a 27-year-old from Saint-Malo in Brittany.
He was working in the Boro Bistro near the site of the attack in central London. The French foreign ministry is yet to reveal his name.
Police have confirmed seven deaths so far from the attacks, with more than 30 people still in hospital getting treated for injuries.
All three attackers, whose identities are not known, were shot dead by police officers responding to the incident. A British Transport Police officer who responded to the incident was also stabbed.
He is being treated for serious, but not life-threatening, injuries. Some details of one of the attackers have emerged in the media, including that he is of Pakistani origin.
How the London Bridge and Borough Market attacks unfolded
Shortly after 10pm BST, a white van travelling at high speed veered off the road on London Bridge and hit several pedestrians. Police say there were three people in the van, but it is not clear if that included the driver of the van.
The van mowed down several people and then crashed on to the side of the road at Borough High Street. Witnesses saw three men armed with long knives and blades jump out of the vehicle and head to the crowded Borough Market south of the bridge. They said the men were seen randomly stabbing people at the market area and inside restaurants and bars.
Police said officers in an armed response vehicle shot dead the three men within eight minutes of receiving the first emergency call. All the attackers were reportedly wearing fake suicide vests, which were visible in one of the images of the slain attackers circulating on social media. The picture showed a man wearing what looked like canisters strapped to his vest.
London police are on high alert following the attacks, which have occurred just four days ahead of the UK general election scheduled on 8 June. They also follow two recent terror attacks in the country — the Manchester Arena bomb attack on 22 May that killed 22 people, and the Westminster Bridge attack on 22 March in which five people died after a vehicle hit pedestrians.
The London Bridge attack also bore similarities to the 2016 truck attacks in Nice, France, which killed nearly 80 people, and in Berlin, Germany, which killed 12 people during Christmas.
Who is involved?
The identities of the three attackers shot dead were not immediately known. The police say they believe there were no more than three assailants but are investigating further.
Isis has claimed responsibility for the attack through its official news agency Amaq on Telegram, according to US' Site Intelligence agency.
It has emerged that one of the attackers was reported to police twice for extremist views by one of his neighbours and a friend. The man is said to be of Pakistani origin, but brought up in the UK. Police have not revealed details of the other assailants.
Eyewitness accounts
Mark Roberts, a 53-year-old management consultant, told Reuters that the van hit some six people on the bridge. "It looked like he was aiming for groups of people. I froze because I didn't know what to do. It was horrendous."
BBC reporter Holly Jones said the van was "probably travelling at about 50 miles an hour. He swerved right round me and then hit about five or six people," she told the BBC News Channel. "He hit about two people in front of me and then three behind."
An eyewitness told The Sun that the attacker was "black, dark-skinned, red tracksuit on, with a red hoodie."
"We saw people running away and then I saw a man with quite a large blade, at least 10-inches, stabbing a man three times. He was stabbing him quite coldly, and then the victim slumped to the ground.
"He walked quite boldly along with another guy in the direction of the Southwark Tavern pub. Glass bottles and tables were thrown at them, and then we heard gunshots."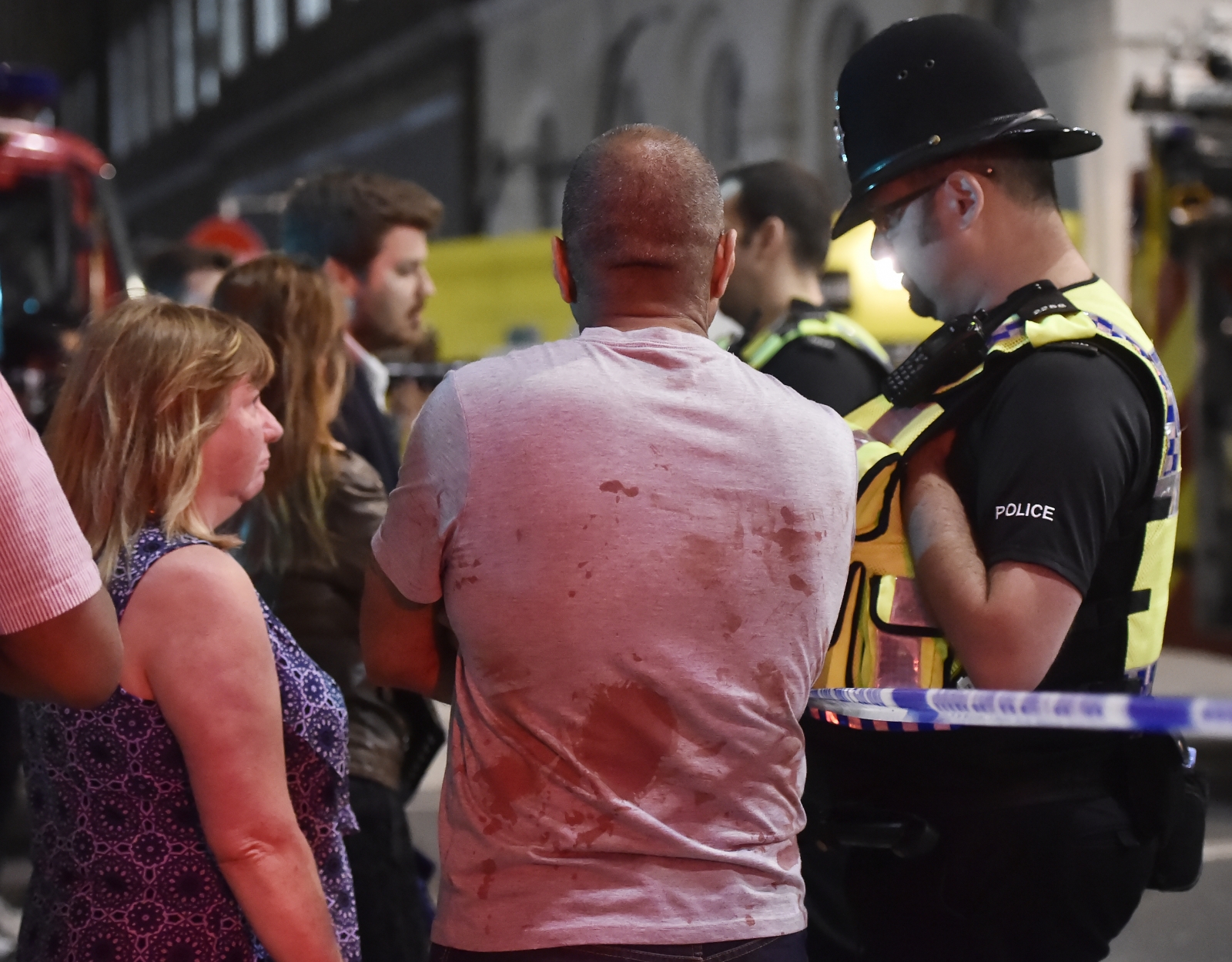 New York Times journalist Rukmini Callimachi tweeted that some eyewitness said they saw assailants stabbing a girl, while screaming, "This is for Allah."
An unnamed taxi driver told Radio LBC that he tried to stop the assailants from stabbing people. "I thought, 'I'm gonna try and hit him, I'm gonna try and knock him down. I spun the cab round, I was about to ram one of them, but he side-stepped and three police officers came running towards them with their batons drawn," he said.
"I was shouting at everybody, just get away from the area, stay back, just run the other way. There were a good few hundred people out there."
Alex Shellum, who was in The Mudlark pub close to London Bridge, told the BBC that at around 10pm a woman in her early 20s "staggered into the pub". "She was bleeding heavily from the neck and from her mouth. It appeared to myself and to my friends that her throat had been cut. People went to her aid."
Shellum added that the pub was shut following the incident and armed police told them to leave the area. "I could see on my left a further individual was having CPR performed on them by the emergency services."
"Potential act of terrorism": Theresa May
Prime Minister Theresa May said: "Following updates from police and security officials, I can confirm that the terrible incident in London is being treated as a potential act of terrorism.
"This is a fast-moving investigation. I want to express my huge gratitude to the police and emergency services who are on the scene. Our thoughts are with those who are caught up in these dreadful events," she said soon after the attack.
Later on Saturday, after heading a Cobra meeting on the latest terror incident, she said there has to be an end to Islamist extremism. "Enough is enough!" May also shared four vital strategic measures that would help in curbing extremist violence.
London Mayor Sadiq Khan termed the incident as a "horrific terrorist attack". "My thoughts are with everyone affected, and I'd like to thank the brave men and women of our emergency services who were first on the scene and will be working throughout the night."
He urged people to avoid the attack scene and nearby areas until notified. He also said that a Cobra meeting will be convened on Sunday morning to assess the security situation in the city and the country.
"The situation is still unfolding and I would ask all Londoners and visitors to our city to remain calm and vigilant. Please report anything suspicious to the police, but only call 999 in an emergency."
US President Donald Trump and other global leaders have extended their support and expressed solidarity with London at this hour of crisis. Trump has reiterated the significance of his controversial travel ban to prevent such terror incidents.