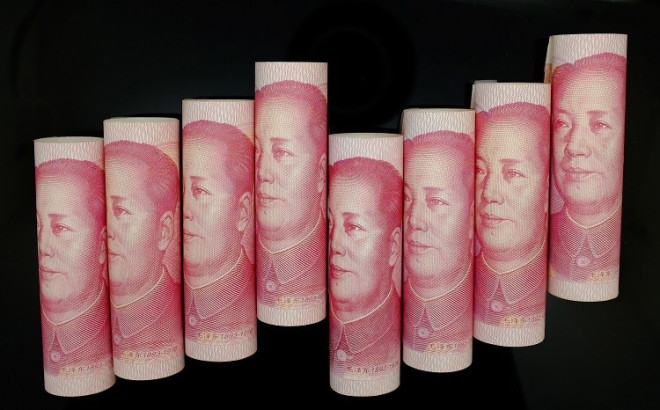 London's status as the world's premier foreign exchange hub could make it the leading offshore centre for China's currency.
The renminbi is in the very nascent stages of internationalisation, with state controls meaning it can still not be fully converted overseas.
However, analysts suggest that London's location, its abundance of financial institutions and its forex track record could help it capitalise on future developments in the currency, adding significant benefit to the UK economy.
"Overall, it's going to be good for our economy if we have those closer ties to China. We will be getting more trade flows and having more financial institutions set up here. If you're getting a share of that flow, you're getting more Chinese firms setting up here, contributing to the economy," Virginie O'Shea, senior analyst at the Aite Group, a research firm, tells IBTimes UK.
In a report entitled Internationalising the Renminbi, Aite Group says that the currency has been growing in its use in trade finance, from 1.9% of payments in January 2012 to 8.7% in October 2013.
Investor appetite for China's dim sum bonds has been growing as well, with 87% of those interviewed for the survey finding them "appealing".
However, the People's Bank of China (PBOC)'s slow approach to liberalising the currency has been stunting its international growth.
"Until there's full convertibility there's not much chance for it to make much of a dent globally. It could be 25 years before its internationalised, and that's predicated on economic growth in China and also on the PBOC and other regulatory government bodies continuing on the path for internationalisation," O'Shea says.
China's growth story, so vibrant in recent decades, has slowed somewhat this year and last. The government is pushing ahead with attempts to rebalance from an investment-based economic model to a consumption-based one.
GDP growth has been a casualty of this, relatively speaking. In the first quarter of 2014, it slowed to its lowest level in 18 months, 7.4%
However, this falls within the forecasts of government economists, which expect growth between 7% and 7.5% in the coming years.
Earlier in 2014, Frankfurt pipped London to become the first offshore clearing hub for renminbi, with London following suit within days.
However, at the time economists warned that the 'victory' was notional, and that neither city would see tangible benefits over the short to medium-term.