Tens of thousands of people marched through central London on Saturday (25 June) afternoon as part of London Pride 2016. Led part of the way by London Mayor, Sadiq Khan, marchers chanted, danced and celebrated the UK's LGBT community.
Before the march IBTimes UK spent the morning with noted LGBT charity Stonewall as they held a Youth Pride event by Bakers Street. Stonewall explained that out of 600 people they had marching on the parade, 150 were young people - many of whom the charity, with support from the Lloyds Banking Group, had paid to travel down for the day. For around 80%, Saturday's march was their first.
Stonewall Chief Executive, Ruth Hunt, spoke of how the march had changed from an "act of defiance" in the 80s to a celebration, but that after the events of Orlando, Florida, where 49 people in an LGBT club were shot dead by gunman Omar Mateen, "the need for us to stand together and say we are part of the LGBT community... is as important today as it was in the 80s."
During the march, open topped buses braved the temperamental weather to take the route from the northern tip of Regents Street, past Trafalgar Square and finishing on Horse Guards Parade. London Mayor, Sadiq Khan, lead the march hand in hand with his wife to Trafalgar Square before addressing a crowd gathered for live performances.
Pride London's official Twitter account tweeted out a picture of Khan speaking, quoting him as saying "you are welcome here."
The Mayor later tweeted that he was "proud to be Mayor of a city so LGBT+ friendly".
Along with Khan, Labour leader, Jeremy Corbyn made an appearance, with one member of the public angrily accusing him of failing during the EU referendum campaign and using the LGBT+ community "to protect [his] weak leadership". "It's your fault Jeremy," Tom Mauchline can be heard saying in the video, "you need to resign." Corbyn replied: "I did all I could."
Away from the politicians, groups from a myriad of organisations marched the route to cheers from the watching crowd. Private companies, government agencies and the armed forces all had representatives there.
Religious groups also marched alongside other members of the LGBT community. Muslim marchers were cheered by the crowd, along with Christians - one sign reading "I'm sorry for what Christians have done to you." Just before Pall Mall, one sparse group of anti-gay Christian protesters gathered holding placards.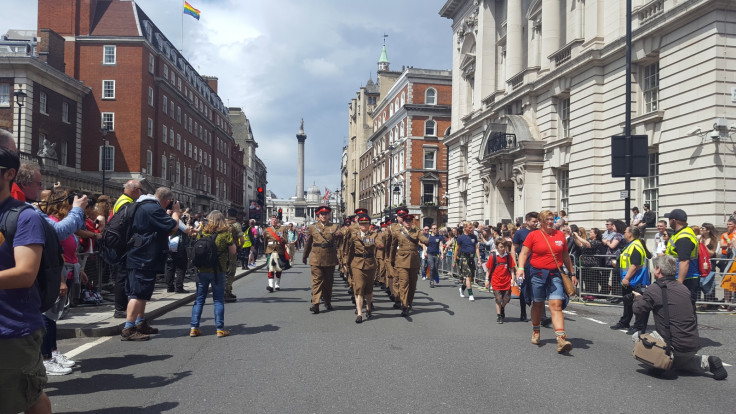 As the Stonewall group walked down, crowds cheered loudly and joined in on chants of "Love Wins" and "LGBT fighting for equality".
The spectre of the Orlando shooting was easy to spot, with flyers proclaiming "remember Orlando" and some groups wearing armbands saying "Orlando". Earlier in the day, at Youth Pride, the topic had quickly come up as a reason 2016's Pride had significance.
Shortly after they addressed the assembled young people, activists Charlie Craggs and Courtney Francis spoke to IBTimes UK about how they got involved with Stonewall and how Orlando had invigorated their LGBT activism.
Craggs runs a campaign called Nail Transphobia: "I take my pop-up salon around the UK... I basically set up so the public can come and get their nails done for free and in that time they get to sit and ask me questions and I can teach them how to be a trans ally." Craggs, transgender herself, says she think it "humanises the issue" - "I'm just trying to change hearts and mind and send people away with more than just a manicure - send them away with a new perspective."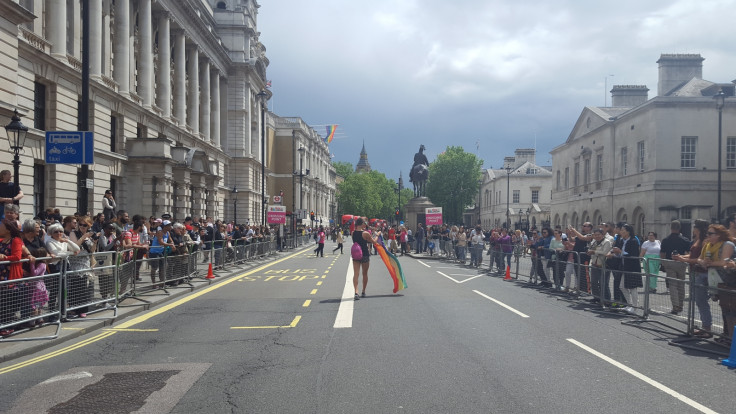 She said that the events in Orlando have brought the LGBT community together, "the community has been quite hierarchical and it's shifted, there's more holding hands within the community and more reaching out to people who have less voice and lifting their voices."
For Francis, a learning disability nurse, the tragic events have catalysed him to want to share more. "I feel extra queer, I feel like I'm more excited to share it," he said "I've always been open but I feel like when I go to work on Monday everyone will be like 'how was your weekend' and I'll say 'well, it was amazing, I went to Pride' and I just want to share it as much as possible."
Francis said that though his job does not necessarily promote equality, being one person, open about his sexuality and willing to talk about it, is a way of changing minds. He says just "being visible and being honest" is important. Craggs agrees: "it's so important to be more loud and more proud this pride."
Towards the end of the Youth Pride event, the assembled young people spoke about what Pride means to them - some said sharing experiences with other people in similar situations, some said seeing the support and love that the community brings them. Before they left, Stonewall Chief Executive Ruth Hunt said "Let's go and show the world love."