London Pride 2017: Ring of anti-terror concrete blocks to be used to protect revellers
Bag searches and vehicle checks will also help guard festival from London Bridge-style attack, police say.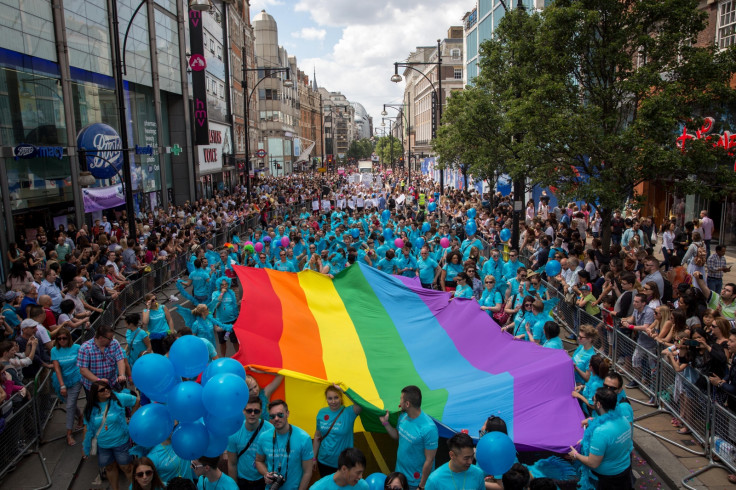 Police say this year's London Pride parade will "look and feel a bit different" as new anti-terror measures are used to protect revellers, including a ring of concrete roadblocks.
The 45th annual Pride Festival kicks off on Saturday (24 June), with tens of thousands of people expected to fill the streets of Soho during the main Parade down Regent Street on 8 July.
Senior officers said recent atrocities like the London Bridge and Westminster attacks have meant security for the annual event will be ramped up.
Speaking at a joint community meeting of the Met Police and Pride at London Southbank University, Commander Dave Musker said while there was "no specific intelligence with respect to a threat to Pride at this time" the event would be policed "within the context" of recent terror attacks.
"We have an effective, robust ... security and policing regime that will allow Pride to take place in a secure and safe environment," Commander Musker said at Friday's meeting, according to the Evening Standard.
"I've initiated a full security review of the policing arrangements for Pride in 2017. You'll be absolutely respectful of the fact that I cannot publicly discuss those arrangements that will not be visible to the public, but they are in place."
One measure Commander Musker did reportedly announce was the introduction of "big, concrete ugly blocks" similar to those seen in Westminster which are designed to protect revellers against a vehicle attack.
Siobhan Linhard, operations director of Pride in London, said vehicle accreditation would also be utilised on the day of the parade.
Met Commissioner Cressida Dick acknowledged the celebrations would "look and feel a bit different this year", adding: "We've adapted our posture, we've changed some of our plans, and the organisers have changed some of theirs. That's been designed to protect Pride more and to let people know that's what we're doing."
While bag searches will also be in place during the parade, one audience member at the joint community meeting asked how police intended to prevent anyone with "malicious intent" entering the crowd.
Commander Musker responded: "For somebody to enter with malicious intent will be extremely challenging for us to stop, but we have a number of measures that have been discussed with the Pride's committee to stop them doing that."
Organisers say last year's Pride was the biggest ever, coming in the wake of the shootings at a gay nightclub in Orlando.
The theme of this year's London Pride is "Love Happens Here" and marks 50 years since homosexuality was legalised in the UK.
© Copyright IBTimes 2023. All rights reserved.