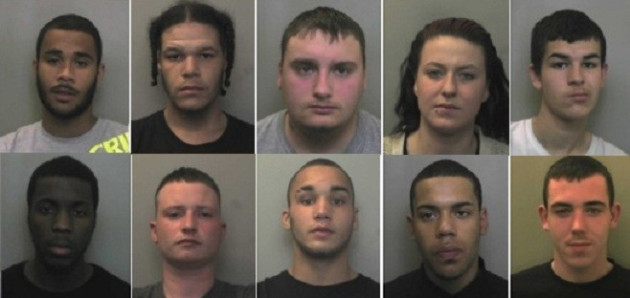 Members of a gang which inflicted violence upon the town of Northampton after watching footage of the London riots have received custodial sentences totalling more than 17 years.
The eleven defendants, aged between 17 and 22, have each been sentenced to up to 30 months\' detention for violent disorder and affray at Northampton Crown Court.
The defendants were part of a wider mob of 30 people which threw bricks and stones at a police van and destroyed a wall on 9 August 2011, at the height of the riots which engulfed London, Manchester and Birmingham.
Participants gathered in Northampton\'s Abington Park, before moving on to The Racecourse and Wellingborough Road in the centre of the city.
Participants wore masks and headgear, in an apparent bid to intimidate Northampton residents. One passer-by was pushed over during the disturbance, although no-one was seriously harmed.
In sentencing the defendants for their part in the event, Judge Richard Bray told the defendants: \"It\'s clear this was a large scale, deliberate aggression and intimidation to the police and public. There must be immediate custodial sentences to deter others.\"
All of the defendants pleaded guilty to taking part in the entire disturbance, apart from 19-year-old Levi Holder, who maintained that he only took part during the initial gathering in Abington Park.