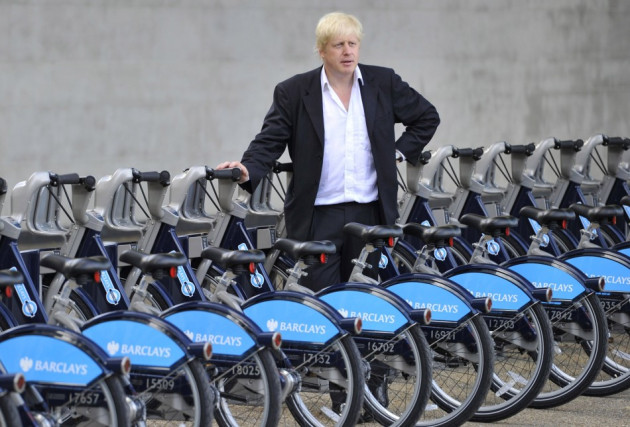 Mayor of London Boris Johnson has announced that an above-inflation increase in transport fares will take effect in January.
The average rise of 4.2 percent will see a single zone 1 tube journey increase by 10p to £2.10. A single bus fare on an Oyster pay-as-you-go will be £1.40, up by 5p, while the cash fare will increase by 10p to £2.40.
Johnson also announced charges for the Barclays-sponsored "Boris Bikes" will double, with daily hire going up from £1 to £2, weekly hire rising from £5 to £10 and yearly membership increasing from £45 to £90.
A weekly travelcard for zones 1 and 2 will go up £1.20 to £30.40, and a monthly card will increase by £4.60 to £116.80. A single-journey fare for zones 1 and 2 will increase by 4.4% from £4.30 to £4.50.
Johnson said: "Before the end of the year I will spell out further investment on the transport network that will help us to provide faster, more frequent and reliable journeys for Londoners, which is crucial to the economic development and growth that is so vital to our great city.
"This fares package is hugely important to our millions of passengers and I am very pleased to have secured nearly £100 million that will help to keep fares as low as possible, and protect the important concessions that we offer the most vulnerable Londoners."
The decision of the timing to announce the increase in fares has been criticised as an attempt by Johnson to "bury bad news", coming on the same day as news and media outlets will be heavily focused on Barack Obama's US Presidential election victory.
Lib Dem leader in London, Caroline Pidgeon, said: "Quite shamefully Boris Johnson has decided to bury bad news on a day when everyone's attention is on the US Presidential election result.
"Such steep rises would not be necessary if the mayor had secured a far better sponsorship deal with Barclays."
Labour's transport spokeswoman Val Shawcross said: "This fares package is another tax on working Londoners. Since Boris Johnson was first elected fares have gone up dramatically.
"It's appalling that he's continued to increase fares above the rate of inflation when so many people are struggling. It's notable that he chose to publicise the fares increase on the day when the entire media is focused on Barack Obama."
Spokeswoman for TFL Kirstie Marshall denied the suggestions, saying it is "merely a coincidence" the announcement was made today.
Marshall added that the date of the board meeting where the price rises were made public had been available on the TFL website for months.
Bob Crow, the general secretary of the RMT transport union, said: "This increase shows that we are still paying off a heavy price for the expensive failure of the PPP [public private partnership] privatisation disaster.
"It also means that the mayor has no excuse for cutting staff and closing ticket offices as he's lumping on above-inflation fare rises.
"We believe there should be a policy of freezing fares to recognise the tough times people are facing, to increase the use of public transport and to help boost the economy."