London: Westfield and Inition use Oculus Rift virtual reality to showcase future of retail
London shopping mall chain Westfield has teamed up with virtual reality interactive experience production company Inition to showcase the key fashion trends of spring/summer 2015 using virtual reality.
Virtual reality (VR) is still a relatively new concept but developers are steadily developing a wide number of purposes for the technology, including 360-degree gaming, the chance to watch gigs from the front row, the ability to look at the interior of cars at a showroom, or to be able to analyse the layout and interiors of residential or commercial property.
But Westfield is keen to see how virtual reality can be brought into the realm of high-street retail and to that end, from 2 to 4 April, the Future Fashion installation will be available for shoppers to experience at Westfield Stratford City in east London.
The installation consists of three elements: interacting with giant video walls showcasing this season's major fashion trends; taking a trip into a colourful dreamscape using Oculus Rift virtual reality goggles; and using Edit Me, a giant touchscreen, to find outfits of any colour or style located in any of Westfield's many retailers.
Xbox Kinect tracking technology comes into play
The three hottest fashion trends this season are floral, denim and future modern, and the giant video walls feature Xbox Kinect tracking technology to map where visitors are standing. It allows them to push, kick and move animated flowers and metal jeans buttons around on the screen.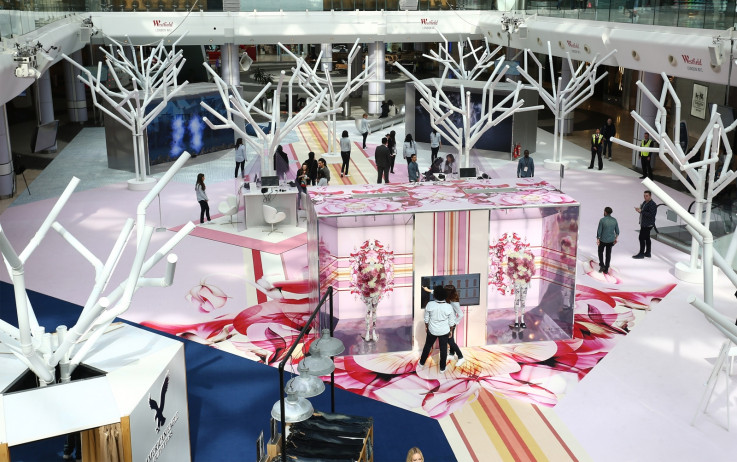 Customers can use a giant touch screen to run the Edit Me microsite, where they can locate every single clothing item of a certain colour from any of the mall's many retailers
Westfield
Visitors can also experience a three-minute-long 360-degree immersive interactive experience in three different worlds by putting on Oculus Rift virtual reality goggles. They contain a Leap Motion sensor strapped to the front that picks up the user's hands, allowing them to turn and even fly in the dreamscape world.
"There's a huge swell of interest in VR – there's probably about 20 VR headset manufacturers trying to bring products to market at this moment. Normally a web-based shopping experience is just a website but with VR, you can replicate the walking into a store experience as if you're standing in the store – it's a very different experience to online," Stuart Cupit, the co-founder and director of Inition.
"Future Fashion is a combination of art, interactive fun and experience, the kind of thing you don't see every day. Virtual reality is still quite new as a technology, and we've added the ability for the headset to be able to track your hands as you use it. This is one of the first times that this has been shown to the public."
Inition has been working on interactive experience installations for 15 years. It has worked with Nissan on producing a flying virtual reality experience and in 2014, it collaborated with Topshop to create a virtual reality fashion catwalk experience that allowed VR headset wearers to feel as if they were in the front row of the fashion show.